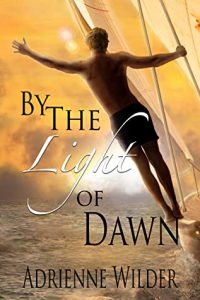 Novel: By the Light of Dawn
Author: Adrienne Wilder
Genres: Drama, Romance
Released: 2020
Part of Book Series: Morgan & Grant #2
Summary: A handmade sailboat helped bring Morgan back to Grant but he never imagined they would put it in the water.
Then Morgan sees something in the light that sets Grant on a mission to get them to the middle of the ocean. An unknown destination they have to be at when the sun rises.
It's important enough that Morgan is willing to leave Durstrand. Important enough that he'll face the challenges of his autism.
So important, it could even be a matter of life and death.
---
Post's Author Opinion:
Note: This is a personal opinion, it does not reflect YaoiOtaku's official position towards the novel.
In the Absence of Light is one of my favourite novels ever, and the first I read from Adrienne Wilder. I read it twice and I was not expecting a sequel to it, I didn't even dream it, so when I accidentally came across the sequel on Goodreads I rushed to get my hands on it. I didn't know what to expect, but I was ready.
I almost forgot how great Morgan is and how much I love him. He is amazing and so funny. I almost forgot how much I like Grant's attention to Morgan, how respectful he is of Morgan's space, needs, and wishes. It's been a while since I read the first book and right as I started this one I almost went ahead and read it again, but I wondered why would I do that when I literally have Grant and Morgan right in front of me. As it turns out, I liked In the Absence of Light more so there's a really high chance I will read it again.
That's not to say I didn't enjoy By the Light of Dawn. Oh, no, far from it. I loved seeing Grant and Morgan's relationship continuing growing. It's been a short time since they got married and they obviously still have stuff they need to work out. Luckily for everyone involved, they are on the right, steamy, track.
On this adventure over the ocean, Morgan is on a mission, and as vague as that mission may be, Grant is more than ready to go to the end of the world for Morgan. There's just no limit to how far Grant could go or how much he loves his husband. His devotion is absolute and so great to read about.
If there are more sequels coming to this, yes, please!
What's your opinion on By the Light of Dawn novel? Please let us know in the comments below.