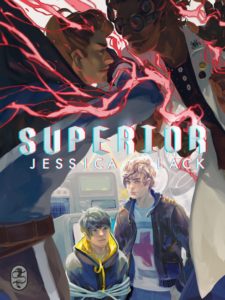 Novel: Superior Novella
Author: Jessica Lack
Genres: Young Adult/Superheroes/Romance
Released: August 16th 2016
Part of Book Series: Standalone
Summary:
A superhero's intern falls in love with a supervillain's apprentice in this star-crossed LGBT YA story from The Book Smugglers.
Here's the thing about being a superhero intern: there's a lot less crime fighting than you think there will be, what with the whole liability issue and the administrative headache of constantly monitoring the Heroic Help Hotline. The most action that Jamie sees happens when he is kidnapped by the supervillain of the week—and then waits for his boss, Captain Superior, to show up and rescue him. Again.
On his most recent nabbing, Jamie gets to meet Tad, Terrorantula's new villainous apprentice. Even though they are supposed to be on opposite sides (or are they?), sparks fly almost immediately. So, when Tad offers to give Jamie much-needed self-defense classes, how could Jamie pass the opportunity to hang out with the coolest (and hottest) guy he knows?
But Tad has a secret—one that threatens the budding relationship between the two teenage sidekicks, and could destroy Captain Superior forever.
---
Post's Author Opinion:
Note: This is a personal opinion, it does not reflect YaoiOtaku's official position towards the novel.
From the premise above, I was intrigued. A superhero story that didn't focus on the superheroes nor saving-the-world plotline. Instead, it was mostly about the teenage sidekick Jamie who was often kidnapped by supervillains' goons and recently had an instant-crush on a supervillain's apprentice named Tad. I thought this would be an interesting read, and I was not disappointed. Even with only 56-pages long, Superior could still deliver a sweet and heart-felt star-crossed romance between Jamie and Tad.
Also, just take a look at the cover! It's so nicely drawn, illustrating the first scene of Superior. A typical good-vs-bad combat between supers, but with dark shading on their faces. In the other hand, the cute boys were drawn in light tone, taking center on the cover and looking quite cozy as the spectators, because they were the main characters in Superior.
For favorite character, I adored Jamie as the MC. He was cheeky and confident. He had optimistic view and was quick to help saving people in dangerous situation. He had flippant and sarcastic voice. He made Superior fun and engaging to read.
Not only Jamie's character and his endearing romance with Tad, I also liked that there were action, revenge, a tiny bit angst and a slight drama in Superior. Sure, the story was short, the plotline moved quickly, and the ending felt a bit rushed, but I still loved it since Superior has taught us that even without superpower, anyone who has will and determination can be a hero.
What's your opinion on Superior novella? Please let us know in the comments below.