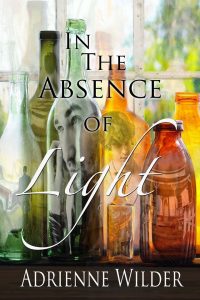 Novel: In the Absence of Light
Author: Adrienne Wilder
Genres: Romance, Drama
Released: 25 March, 2015
Part of Book Series: Morgan & Grant #1
Summary: For years Grant Kessler has smuggled goods from one end of the world to the next. When business turns in a direction Grant isn't willing to follow he decides to retire and by all appearances he settles down in a nowhere town called Durstrand. But his real plan is to wait a few years and let the FBI lose interest, then move on to the distant coastal life he's always dreamed of.
Severely autistic, Morgan cannot look people in the eye, tell left from right, and has uncontrolled tics. Yet he's beaten every obstacle life has thrown his way. And when Grant Kessler moves into town Morgan isn't a bit shy in letting the man know how much he wants him.
While the attraction is mutual, Grant pushes Morgan away. Like the rest of the world he can't see past Morgan's odd behaviors
Then Morgan shows Grant how light lets you see but it also leaves you blind. And once Grant opens his eyes, he loses his heart to the beautiful enigma of a man who changes the course of his life.
---
Post's Author Opinion:
Note: This is a personal opinion, it does not reflect YaoiOtaku's official position towards the novel.
I absolutely loved reading In the Absence of Light. I can only describe it as a delightful, funny, and awesome novel.
I actually don't even remember how I came across it (probably downloaded it in the forums along with a bunch of other novels and kind of forgot I even had it on my laptop, like I usually do), but there it was so what else to do but reading it?
I liked it from the first few sentences, and I knew I was gonna love it.
First, we get Grant, a dubious guy on the run from the FBI. And then we have the gorgeous Morgan that has no time for games. You'd think this is either a recipe for failure either something great, and luckily for us, it's the second option.
In essence, this is a beautiful story about getting to see what's in front of you plain and simple. Things don't always go smooth, but then again, they rarely do, and we might get worried that Grant won't be able to open his eyes and look straight ahead of him. But with Morgan's help he might just be able to get a glimpse.
If you didn't read this yet, I highly recommend it.
What's your opinion on In the Absence of Light novel? Please let us know in the comments below.