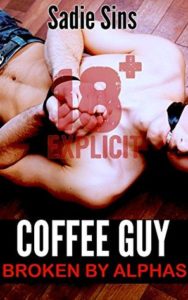 Novel: Coffee Guy: Broken By Alphas
Author: Sadie Sins
Genres:M/M Romance, Supernatural, Mature
Released: November 10, 2015
Part of Book Series: None
Summary:
18+ Explicit Content
Six successful, powerful, dominating alpha wolf shifters. One sexy, naïve coffee guy.
Jayden wasn't expecting his skintight jeans and flirting ways to catch the eye of his billionaire alpha when he started his new job at Starling Enterprises. He definitely wasn't expecting to find himself on the floor of his packleader's office, bound and servicing every eligible alpha that works in the building.
Galvin Starling and his associates have a lesson to teach their coffee guy about being a distraction in the workplace. Galvin's not sure if Jayden can handle all six hard points on the matter, but he's determined to find out. If Jayden begs nice enough, they might eventually untie him. Maybe.
Jayden's night gets even more overwhelming when he discovers just what makes these muscular alphas so different from other shifters. It gets wet, and no towels are offered to stave the downpour.
Warning: This is an intense, caffeinated allnighter of using, stretching, multiple penetration, dominance, degrading language, soaked floors, and sexy strong men with shifter anatomy that knots and ties. With over 15,000 words of naughty filth, it guarantees you'll never look at your coffee guy the same way again.
---
Post's Author Opinion:
Note: This is a personal opinion, it does not reflect YaoiOtaku's official position towards the novel.
"In my professional assessment? Coffee guy's totally fucked. On his knees, begging for mercy, six alpha cocks reaming him raw, fucked."
– Hans
'Coffee Guy: Broken by Alphas is just one of those intriguing novels that I came across over a year of reading M/M or BL novels. Knowing Sadie Sins, I knew already that this novel is one of those novels that will just get you hot and bothered. Don't expect romance when you come across one of her works, expect domination, dirty scenes and detailed work of an art.
First thing's first. Wow. When we come across novels with A/B/O dynamics, they are always about two alphas fighting for an omega or fighting a clan but this one is rather different. There are six alphas in this books and they are all loyal. Each character starting from Galvin (the main Alpha) were named and described. Later on, they had their own scenes and highlights on their character traits too.
Aside from that, I love how Jayden (Coffee guy) started his character from innocent looking man at the first page to a dirty boy at the end. Don't just a book by its cover, right? Needless to say, this guy got more than what we bargained for. The story setting is very supporting and though each Alphas are indeed sadistic, they also had their caring side.
If you want to read this book then please take heed of one of the Hans's (one of the Alpha characters) statement at the beginning of the review. To top it all, is this novel good? Yes. A short novel but this one is one of those novels that you want to keep and read again afterwards. Also, this is one of the novels that you might want to read when you're alone too.
You know what's bad from about this novel?
It's short.
What's your opinion on Coffee Guy: Broken by Alphas novel? Please let us know in the comments below.