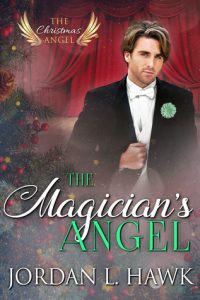 Novel: The Magician's Angel
Author: Jordan L. Hawk
Genres: Romance, Mystery
Released: 2018
Part of Book Series: The Christmas Angel #3
Summary: Vaudeville stage magician Christopher Fiend lives for the spotlight. His chance at big time stardom awaits him in Chicago, the next stop on the circuit after the little town of Twelfth Junction.
Edward Smith wants nothing to do with his family's theatre. Until Christopher catches his eye on opening night, then treats him to a very special performance during intermission.
When a dead body turns up in the middle of Christopher's act, suspicion immediately falls on him. If Christopher and Edward can't work together to clear his name, Christopher won't make it to Chicago in time. Edward knows he shouldn't get attached to a man who will be gone in two days, but his heart—and a very special angel—have other ideas.
---
Post's Author Opinion:
Note: This is a personal opinion, it does not reflect YaoiOtaku's official position towards the novel.
Of course I didn't read the synopsis before reading the book, I just saw the collection and thought why not reading the books during the holidays month, so when the story took a murder-mystery turn I was surprised and delighted. I like mystery books a lot, and having that paired with a blooming love story… What else could one want?
So far so good, I liked the main characters, they were pretty great, compatible, definitely on the same wavelength and that was all good. Where I feel the story lacked is regarding the angel. In the first two books (Christmas Angel and Summerfield's Angel) the angel was quite a presence and even here I was expecting at some point for the beautiful winged lady to at least utter a few words, but there was nothing apart from some smiles and a frown. It didn't feel quite as magical. However, I did like the mention of how Christopher came in the possession of the wooden figure, that was a nice touch.
While the romance bit of the story flew quite nicely with instant attraction developing into feelings of affection, the mystery was not as thrilling as I would have liked it to be. It was on point, though, so I declare myself mildly satisfied. Overall, the third instalment of the series was pretty good, nice quick read, just fit to indulge into on a December evening.
What's your opinion on The Magician's Angel novel? Please let us know in the comments below.