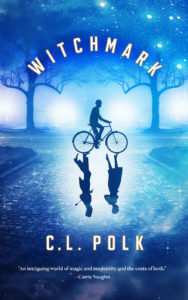 Novel: Witchmark
Author: C.L. Polk
Genres: fantasy
Released: June 19, 2018
Part of Book Series: The Kingston Cycle, Book 1
Summary:
Magic marked Miles Singer for suffering the day he was born, doomed either to be enslaved to his family's interest or to be committed to a witches' asylum. He went to war to escape his destiny and came home a different man, but he couldn't leave his past behind. The war between Aeland and Laneer leaves men changed, strangers to their friends and family, but even after faking his own death and reinventing himself as a doctor at a cash-strapped veterans' hospital, Miles can't hide what he truly is.
When a fatally poisoned patient exposes Miles' healing gift and his witchmark, he must put his anonymity and freedom at risk to investigate his patient's murder. To find the truth he'll need to rely on the family he despises, and on the kindness of the most gorgeous man he's ever seen.
---
Post Author's Opinion:
Note: This is a personal opinion, it does not reflect YaoiOtaku's official position towards the novel.
Really fantastic debut novel. Miles and Tristan, as main characters, are complex. They're not without their own faults, but they're inherently good characters and you just want to root for them. Their romance is so soft, and their happy ending is so satisfying. The worldbuilding is amazing, too. The author unfolds this fantasy and steampunk-esque world slowly but deliberately, and doesn't dump the information at the reader all at once; in fact, sometimes the author doesn't outright say things, and you have to infer certain aspects of this world she has envisioned.
While it's a murder mystery and also a romance, Witchmark also tackles many social issues and other important themes – such as the aftermath of war, agency, class differences, and the costs of technological advancement. On paper, it sounds very convoluted, but the novel manages to weave together these themes seamlessly into the story. It's not just a fluffy book you read before bed. It's a book that also makes you think.
What's your opinion on Witchmark novel? Please let us know in the comments below.