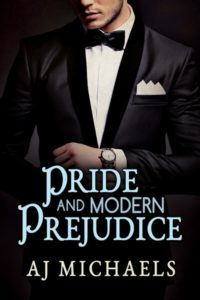 Novel : Pride & Modern Prejudice
Author : A J Michales
Genres : LGBTQ, M/M Contemporary Romance
Released : June 2014
Part of Book Series : Standalone
Summary :
What happens when Jane Austen's immortal characters are thrust into 21st century Pennsylvania, with an all-male twist?
Liam Bennet has always been a good judge of character, but when William Darcy is thrown into his social circle, everything spins out of control. Darcy is proud, cold, arrogant—and strangely captivating. When Liam's brother and Darcy's business partner start seeing each other, Liam cannot avoid this enigmatic businessman. But does he want to?
As Liam struggles to find his identity in college and acknowledge his feelings, he must deal with the fortunes of his four brothers, his gossiping mother, and the possibility of a large inheritance that could save his family from financial ruin. Emotions come to a boil when George Wickham, a world-weary musician, stumbles into town and ignites a feud with Darcy. He threatens to expose a long-hidden past, and Liam must decide for himself who William Darcy really is and what he really wants.
---
Post Author's Opinion :
Note: This is a personal opinion, it does not reflect YaoiOtaku's official position towards the novel.
Its one of my favorite novel. I Absolutely loved/adored it. its not erotica yet romantic and such a emotional roller coaster ride. I am not going to tell you plot for this one as Pride & prejudice is well known story, only Liam is Elizabeth, Darcy is Darcy & Wickham is Wickham (Whom you want to punch in face). The plot is set in 21st century with modern guys but same problems that fit well in whatever century you living. Love, Secrets, Pride & off-course Prejudice we have it all here.
I may have to be honest with you I may have had crush on Darcy. Liam (I love the name) comes from large family with five brothers (In original book there were all bennet girls, i loved this change). When Jamie (older brother of Liam) falls in love with Charlie Bingley, Darcy pop's in Liam's life.
You may have known the original plot, so i am gonna talk about changes only.
I Love adaptation of original plot to this modern life in USA. Georgiana is lovely, Darcy is as his original self standoffish, proud, judgemental & very distant ( I Loved his other side though). Liam doesnt give damn about it, but he must stand Darcy because of Jamie & Charlie. But they cant avoid each other for long & dome spark fly. There is no steamy sex scene in book but you can let run your horses wild when Liam & Darcy finally collide.
We all know how this books ends, so there was no surprise except changes. But plot was absolutely perfect, adorable & very romantic.
Whats your opinion on Pride & Modern Prejudice Novel? Please let us know in comments below.