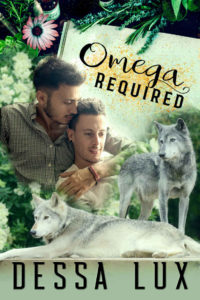 Novel: Omega Required
Author: Dessa Lux
Genres: omegaverse, paranormal
Released: April 3, 2018
Part of Book Series: standalone
Summary:
An alpha werewolf chasing his dream meets an omega fighting for his life in a strictly temporary marriage of convenience…
Alpha werewolf Beau Jeffries has been going it alone ever since he was cast out of his pack as a teenager for trying to help a human and endangering the pack's secrets during the tumultuous years when the wider world was learning the truth about werewolves. He hasn't lost his drive to help others, and he's about to begin a prestigious medical residency–only to learn that, as the first werewolf the program has knowingly accepted, he'll have to follow special rules, including the one that requires him to be married when he begins his residency.
Omega werewolf Roland Lea is just trying to survive. After escaping the last and worst in a string of abusive relationships that left him scarred and unable to conceive, he's found safety in a refuge for homeless omegas. But despite the help he's getting at the refuge, he just keeps getting sicker instead of better, further and further from being able to make it on his own. When he's offered the opportunity to sign up with a mate-matching agency, he figures he has nothing to lose. No alpha is ever going to want an omega like him.
When Beau sees Roland's profile, he knows at once what's making the omega sick, and he's determined to help. If he can persuade Roland to marry him, he can save Roland's life while Roland helps him get through his residency. But will their hasty partnership be enough to bring them both through what's ahead–and can temporary necessity lead to a forever love?
---
Post Author's Opinion:
Note: This is a personal opinion, it does not reflect YaoiOtaku's official position towards the novel.
In the middle of reading Omega Required, I wondered why the writing style kept me engaged even though I found the story itself to be slow. I wasn't familiar with the author, because this is the first book of hers that I've read, but the writing was tight and polished, and had a wonderful flow to it that isn't quite common among authors in this genre, most especially self-published authors. Turns out that Dessa Lux is a pretty well-known fanfiction author, one of my favorites in one of my fandoms, actually, which explains her exemplary writing style. I find that authors who have backgrounds in writing fanfiction have more fluidity to their writing; they aren't constrained by formality and let their natural writing voices appear on the pages, and it always keeps me engaged.
However, as I mentioned above, even though I loved the writing style and tone, I found the overall story to be a bit too long. I wouldn't have minded the length so much if the book were only about the internal struggles of Beau and Rory as they navigated married life together. For a good half of the book, the story focused on that slice-of-life aspect and I greatly enjoyed it. The first half was very much character-driven and it was a delight to read all about how the two main characters slowly got to know each other and slowly discovered their desire. They healed each other, too.
The external conflict that popped up in the second half of the book felt a bit unnecessary to me, though. It's the primary reason why this isn't a four-star read for me. I understand that the conflict is there because it, ultimately, teaches Beau a lesson about trusting and confiding in his partner and the people around him, and also teaches him a lesson about pack. But ultimately I felt like these lessons could've been taught to Beau without the need for some superfluous subplot involving the man and his daughter. That subplot just added more pages and misunderstanding between the two main characters.
Still, I did enjoy this book. The timeline feels a bit fuzzy to me, though I do believe that the entire story happens in the span of two months. It may seem a little bit fast, but the progression of the relationship felt natural and organic to me. Beau and Rory spend a lot of time with each other in the beginning of their marriage, after all, and the close quarters moved their relationship along a little faster compared to others who may not see each other often. They grow as people, individually and together, because in the end Omega Required is a book about the two main characters finding healing and family. I could've done with a little less miscommunication and lack of communication between Beau and Rory, but given their pasts and their personal backgrounds, I could understand a little bit why they'd hesitate on opening up with each other.
I'm glad to see that there'll possibly be more stories set in this universe, though! I'm already crossing my fingers that Adam and Casey might feature in one of the future stories, as a couple.
What's your opinion on Omega Required novel? Please let us know in the comments below.