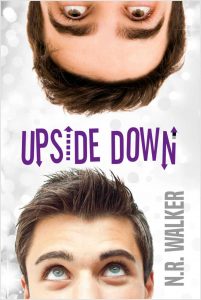 Novel: Upside Down
Author: N.R. Walker
Genres: Asexual/Romance/Contemporary
Released: March 21st 2019
Part of Book Series: Standalone
Summary:
Jordan O'Neill isn't a fan of labels, considering he has a few. Gay, geek, a librarian, socially awkward, a nervous rambler, an introvert, an outsider. The last thing he needs is one more. But when he realizes adding the label 'asexual' might explain a lot, it turns his world upside down.
Hennessy Lang moved to Surry Hills after splitting with his boyfriend. His being asexual had seen the end of a lot of his romances, but he's determined to stay true to himself. Leaving his North Shore support group behind, he starts his own in Surry Hills, where he meets first-time-attendee Jordan.
A little bewildered and scared, but completely adorable, Hennessy is struck by this guy who's trying to find where he belongs. Maybe Hennessy can convince Jordan that his world hasn't been turned upside down at all, but maybe it's now—for the first time in his life—the right way up.
---
Post's Author Opinion:
Note: This is a personal opinion, it does not reflect YaoiOtaku's official position towards the novel.
When Upside Down came out, I was sooo excited! Another ace-romance in MM genre with no heated scene between MCs at all? Oh yes, please!
Upside Down has grabbed my heart and made me swoon! It was sooo cute & fluffy, the interaction & chemistry between Jordan the adorkable rambler and Hennessy the sweet & supportive BF-material. They were so perfect together, I was rooting for them to be official couple already! Every scenes between them adoring each other, especially their flirty-ish banter on the short bus rides . . . aww, they brought out my giddy smiles and gave me happy feeling~♥
Upside Down has ace-positivity and valuable information regarding people in ace-spectrum. It's very relatable and I'm glad that I could learn something new & valid about my asexuality. 🙂
Over all, Upside Down is absolutely one of the best ace-romance novels out there. I love it so much, I read it in one sitting, and immediately reread it after that~♥
What's your opinion on Upside Down novel? Please let us know in the comments below.