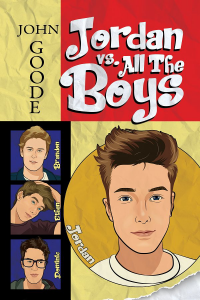 Novel: Jordan vs. All the Boys
Author: John Goode
Genres: Young Adult/LGBTQ+/Romance
Released: February 19th 2019
Part of Book Series: Standalone
Summary:
Everyone has that one summer, the summer where you take your first steps into adulthood. The nights are longer, the songs are better, and the friends you make are forever. For Jordan, Brandon, Ethan, and Dominic, that summer is now. This pack of self-proclaimed nerds set out on an adventure that defines every young man's life—the search for love, or at least what they think love is. As with all great quests there are pitfalls and challenges ahead of them and they will have to overcome their greatest enemy, their own egos. But the power of true friendship could give them the strength they need to complete their quest and win their prize.
---
Post's Author Opinion:
Note: This is a personal opinion, it does not reflect YaoiOtaku's official position towards the novel.
I really enjoyed reading Jordan & his geeky online-gaming pack's (mis)adventures to search love (or at least a boy for him & girls for them to date) during summer break. It was so hilarious and really funny, easily made me smile and laugh.
Some sweet & cute moments between Jordan & his BFF Brandon gave me warm feeling. Some silly scenes & dialogues with either Ethan and/or Dominic brought me the urge to give them some mental dope-slaps. Some horrible decisions Jordan made each rounds were cringe-worthy. And his enthusiasm to make out with every boys hitting on him first rounds? Oh, man. To be honest, it brought out slight frown & judgemental look from me. I couldn't relate with his way, but . . . well, he said he was only 16 and that was his first foray into gay-romance, so I tried to understand.
Speaking of relatable character, though. Unexpectedly for me, it was with Dominic. A bit more quiet than the other boys and hated being touched most of the time. Came from a very religious family so he said something ignorant and homophobic sometimes, although not intentionally. But he was also thoughtful and could give helpful advices whenever Jordan needed him to. His moment with Jordan in the last round was really touching. And some of his scenes in the night club gave me this vibe that maybe he wasn't that eager to date girls nor into dating at all . . . and I was right.
Hopefully, John Goode will write a sequel centered on Dominic next. 🙂
What's your opinion on Jordan vs. All the Boys novel? Please let us know in the comments below.