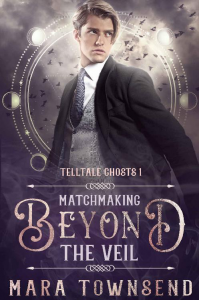 Novel: Matchmaking Beyond the Veil
Author: Mara Townsend
Genres: Romance/Paranormal
Released: May 28th 2019
Part of Book Series: Telltale Ghosts, Book #1
Summary:
Endure the company of his rival…or suffer ghostly retaliation.
Emery Belmont is a snarky, uptight realist who likes his life ordinary. Like any skeptic, he's content using mundane explanations to write off signs of paranormal activity. That's no longer an option when the spirit haunting his house wrecks his new kitchen, forcing Emery closer to facing the supernatural truth. Desperate for a new handyman, he unknowingly hires his hot ex-rival
from high school to fix it. Paxton Santos, Emery's former lacrosse team captain, followed in his father's footsteps to take over the family business. Annoyingly, Emery requires his talented hands more than he needs to keep Paxton out of his life. However, getting Paxton to leave after the repairs may prove difficult with the meddlesome ghost taking a shine to him, which Paxton seems to take in his grating, good-natured stride, remaining irritatingly unruffled by numerous weird occurrences.
Emery is bombarded by mysterious paranormal hijinks, keeping Paxton at arm's length, and deciphering things that aren't quiet what they seem. There's nothing Emery hates more than an unfinished puzzle. In his determination to solve this one, Emery reluctantly opens himself up to new possibilities all while trying to remain firmly rooted in life the way he prefers it—orderly, logically explainable, and, above all else, ghost-free.
Join Emery and Paxton as they face off with a spirit that has no limits to how far it will go to push them together, enduring locked doors, faulty plumbing, and sharing a bed. Together they are determined to navigate their way out of this mess using any means necessary to send the ghost packing. Will they make it out of the traps awaiting them before their pesky tormenter gets any other ideas to make things worse and further blur the line between them?
Matchmaking Beyond the Veil is a 107k slow burn MM romance of rivals to friends to lovers told in single POV. Featuring a meddling ghost playing at matchmaker, forced proximity, bed sharing, ghost tours that totally aren't dates, and tongue-in-cheek humor. This story ends on a HFN ending with a soft cliffhanger. Emery and Paxton's story will continue in the next book of the series, Telltale Ghosts Book 2. This book contains denial, an unreliable narrator, two men experimenting with sex magic, fighting what the heart wants, steamy explicit sexual scenes and colorful language intended for adults 18 and older.
---
Post's Author Opinion:
Note: This is a personal opinion, it does not reflect YaoiOtaku's official position towards the novel.
Matchmaking Beyond the Veil was enjoyable enough. What I really liked was the mystery of the ghost wrecking & haunting the MC's house, the slow burn romance, and Paxton the Love Interest character. Those were the only ones that kept my interest to read this long story until the last line.
Emery the MC . . . well, he was not really likable, imo. Maybe because how unreliable he was narrating the story and I found some of his Point of Views quite annoying. Although he redeemed himself in the end — by accepting his romantic feeling for Paxton, finally. I think Paxton was really good for him.
Next book, is it too much to ask for Paxton's PoV included? Since the first book with the single PoV from Emery was not satisfying enough. I really want Paxton to tell the story, too. I want to know why Paxton would have romantic feeling for Emery.
What's your opinion on Matchmaking Beyond the Veil novel? Please let us know in the comments below.