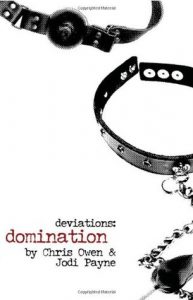 Novel: Domination
Author: Chris Owen and Jodi Payne
Genres: BDSM, Romance
Released: 2006
Part of Book Series: Deviations #2
Summary: In this sequel to Deviations: Submission, Dom Tobias and Sub Noah are back, learning more about each other and their relationship, testing the boundaries of what they can and cannot handle, both together and apart. Tobias works at becoming more comfortable and finding his balance as a full-time Master again. Meanwhile, his work brings out the true submissive in Noah, who faces some of his greatest fears, and his greatest secrets, confessing to Tobias about a terrible time in his past. He's not the only one who has a rough time. Tobias breaks down and shows Noah he's not all dominance, too, which sends shockwaves through their romance, leaving them to wonder if they can keep it together.
---
Post's Author Opinion:
Note: This is a personal opinion, it does not reflect YaoiOtaku's official position towards the novel.
Surprisingly I liked the second novel more than I did the first. Some of the reviews I read point out inconsistencies in the characters and I agree with that, there are some inconsistencies, but at the same time I am really happy about the duality (if I may) of Noah and Tobias' relationship. It is a nice angle.
To me it looks like they are learning how to get the most out of their relationship and how to just be together. Some times they need to play a scene, other times they need to just enjoy each other, and I think that is great, it works out. I admit that I was afraid at some point that things were going in a rather vanilla direction, but we got back on track.
I am delighted that I got to read one scene I anticipated and it was better than I imagined it to be, and I also liked that I was right and I found out more about the main characters individually. The second book managed to really pull me in and made me have a bit of hope for the series. Not too much, but enough to grab the next book.
What's your opinion on Domination novel? Please let us know in the comments below.