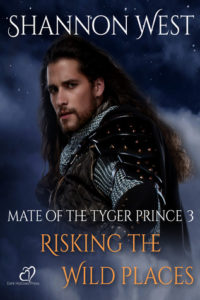 Novel: Risking the Wild Places
Author: Shannon West
Genres: M M Romance Science Fiction
Released: 2016 August 15th
Part of Book Series: Mate of the Tyger Prince #3
Summary: Former Lycan general, Renard Dmitru, is the newly appointed Head of Law Enforcement on Lycanus, trying his best to clean up an illegal love slave operation on one of his planet's moons. He has set up a sting operation to capture the slavers and put them all in jail for a very long time. But now that the long war between the Axis and the Alliance has ended, Prince Anarr of Tygeria has time on his hands and nothing much to do except train for battles that may never come.
He dreams of adventure and longs to leave his boring life behind. When he gets the chance to go on a rescue mission, he jumps at it, and lands in hot water when he's mistakenly arrested for illegal slavery. As General Dmitru fights an overwhelming attraction to the young prince, he accidentally compromises the innocent, sheltered young royal and soon discovers he has to make things right with the young man's father, King Davos of Tygeria. Not to mention placating his furious mate, the royal consort Blake.
Add in a gloomy, decaying settlement on a deserted moon, creepy, dark subterranean passages, ghostly apparitions, heroes, romance and even a damsel in distress, and it's a recipe for the most rousing adventure of the series yet
---
Post's Author Opinion:
Note: This is a personal opinion, it does not reflect YaoiOtaku's official position towards the novel.
This was a fantastic read and there are some unexpected twists in the characters of MCs too.
I love how these two dominant males fight over dominance in everything,I mean a Tiger and a Wolf who are natural enemies ended up being true mates? I love that I can read more of Blake and Davos in this one.
What's your opinion on Risking the Wild Places novel? Please let us know in the comments below