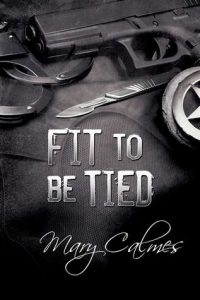 Novel:  Fit to be Tied
Author: Mary Calmes
Genres: Police, Contemporary, Romance
Released: 2015
Part of Book Series: Marshals #2
Summary: Deputy US Marshals Miro Jones and Ian Doyle are now partners on and off the job: Miro's calm professionalism provides an ideal balance to Ian's passion and quick temper. In a job where one misstep can be the difference between life and death, trust means everything. But every relationship has growing pains, and sometimes Miro stews about where he stands with his fiery lover. Could the heartstrings that so recently tied them together be in danger of unraveling?
Those new bonds are constantly challenged by family intrusions, well-intentioned friends, their personal insecurities, and their dangerous careers—including a trial by fire when an old case of Miro's comes back to haunt them. It might just be enough to make Ian rethink his decision to let himself be tied down, and Miro can only hope the links they've forged will be strong enough to hold.
---
Post's Author Opinion:
Note: This is a personal opinion, it does not reflect YaoiOtaku's official position towards the novel.
This series really got my appetite for reading going, and although I read just the second book out five, I already am worried about what am I going to do after I'm done with these.
Before I read a book I usually check out the synopsis, but just barely, more like skimming through it to see if anything catches my attentions. When I log in the books on my goodreads account I actually read the synopsis, and I must say that both of these books (All Kinds of Tied Down and Fit to be Tied) aren't really what the synopsis say. When I read through this one before starting reading the book, I was afraid for what was going to happen. I am glad to say that it wasn't that bad. Well, it was bad, but not in the way I was expecting.
The chemistry between Miro and Ian is still over the roof, I just love when the main characters actually talk to each other, ask question and answer truthfully about what they think and what they feel. That is relationship goals like no other and these two amazing Marshals are so good at it.
As for the plot of the second novel of the series, things get serious and heavy. There is a lot of going on, from Miro and Ian's relationship and what they want, to the external factors in their lives. I was really worried, but then again, communication is key.
And pretty much everything I said in the last part of my review on All Kinds of Tied Down is still valid here too. I cannot stress enough how much I enjoyed these two books.
What's your opinion on Fit to be Tied novel? Please let us know in the comments below.