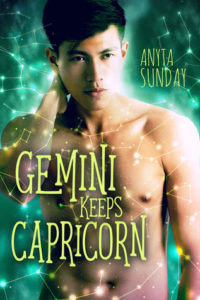 Novel: Gemini Keeps Capricorn
Author: Anyta Sunday
Genres: contemporary, new adult
Released: December 18, 2017
Part of Book Series: Signs of Love, Book 3
Summary:
Sometimes, one stubborn Capricorn is all it takes… to drive Wesley Hidaka to crazy, flirtatious lengths. 
Wesley loves annoying his RA Lloyd Reynolds. He just can't help it. Lloyd is focused, decisive, grounded. He has this amusing ability to follow rules.
Of course Wesley wants Lloyd to break one… or three hundred.
Sometimes, one smirking Gemini is all it takes… to have Lloyd laying down the law and marching Wesley straight back to his dorm room. 
It doesn't stop Wesley teasing again. And again. And again . . .
But damn. Lloyd doesn't crack easily. He's full of principles. He's unshakable.
He's the perfect friend to have when Wesley needs help. Like with his truant brother and his old high school principal.
Sometimes, one little lie is all it takes… to find Wesley fake-engaged to his off-limits RA. 
What can he say? It seemed like a good idea at the time . . .
---
Post Author's Opinion:
Note: This is a personal opinion, it does not reflect YaoiOtaku's official position towards the novel.
I'm a Gemini, so I felt a little bit pressured going into this book. Would I like it? Would I find the Gemini narrator to be relatable? But what if I hated it? I needn't have worried, though. I loved this book. Perhaps not as much as I loved the second book in the series, but nevertheless, I greatly enjoyed reading this.
Wesley is such an amusing and funny character – but underneath the surface he's also so very dependable and loyal to the people he loves the most. Lloyd is a fantastic character, too. He never takes any of Wesley's shit and gives back as good as he gets – but he also never loses that easy affection and tenderness he has for Wesley, even if he spends half of the book trying not to smile while Wesley is looking. They're a great couple with wonderful chemistry (even before they become boyfriends!), despite what Wesley and his silly horoscopes might tell you.
I really appreciate how the books in the Signs of Love series don't solely focus on romance either. In each book, there's an underlying theme of family and personal growth that also drives the plot along. Given that the books in this series are classified as new adult books, these additional themes are very much needed. I'm a reader in my mid-twenties, and the issues and problems that Wesley faces are very much relevant to my own. It makes my connection to the characters even more tangible, and the book even provides some comfort, letting me know I'm not alone in my struggles and that I'll get to my own happy ending someday.
Gemini Keeps Capricorn is also its own brand of slow burn. Given that all the books in this series are slow burn, you would think that, at some point, it will get old. But no. The slow burn in this book feels fresh and different from the previous books. In fact, Lloyd and Wesley get together earlier than the previous couples in the series do. Book-wise, that is. But make no mistake – Lloyd and Wesley have been doing this slow burn for years. Still, like with the previous books, there's a good amount of sweetness to tide you over until the grand get-together.
Now, how to wait for the next book in the series…
What's your opinion on Gemini Keeps Capricorn novel? Please let us know in the comments below.