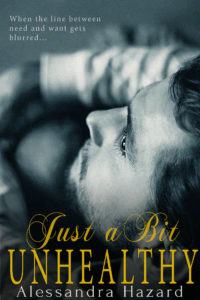 Novel: Just a Bit Unhealty
Author: Alessandra Hazard
Genres: Romance, Homoerotic
Released: N/A
Part of Book Series: Straight Guys #3
Summary:
When the line between "need" and "want" gets blurred…
Gabriel DuVal, rising soccer star.
Jared Sheldon, team physician.
To the outside world, they're just good friends. But the truth is, Gabriel isn't entirely sure what they are to each other.
Some call their relationship unhealthy. Some call it codependency. Gabriel calls it confusing. He knows Jared wants him – as more than a friend. He doesn't want Jared. He's straight, he has a girlfriend, and he loves her. But Jared is… Jared is more. Jared is his. He needs him – his touch and his strength.
But is it enough for Jared?
---
Post's Author Opinion:
Note: This is a personal opinion, it does not reflect YaoiOtaku's official position towards the novel.
In the previous book, a mention was made of Jared Sheldon, Alexander's cousin, and his relationship with Gabriel DuVal. This relationship is something "sickly" —possessive, actually.
Jared is the physiotherapist of the soccer team in which Gabriel plays. Besides that, when he had an injury that could have left him paralyzed, it was Jared who helped him recover. Since then, the relationship between them has been intimate.
It's known that Gabe is Ukrainian by birth, but when he was adopted he was considered French; hence, it is possessive.
The dilemma between Jared and Gabriel, is that the latter has a girlfriend named Claire. Gabriel is aware of his physiotherapist's feelings towards him, but he isn't sure if he will reciprocate. Basically, it's a similar plot to the previous book (Just a Bit Obsessed) but without trios.
It tells us of an insane and perhaps dangerous relationship, but the depth with which it is described conquers you completely.
What's your opinion on Just a Bit Unhealty novel? Please let us know in the comments below.