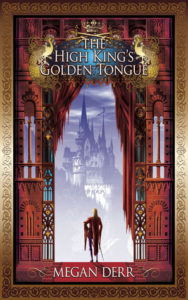 Novel: The High King's Golden Tongue
Author: Megan Derr
Genres: M/M Fantasy Romance
Released: 9th May 2012
Part of Book Series: Tales of High Court Book 1
Summary: Prince Allen has trained his entire life to follow in the footsteps of his illustrious mother, who has made their kingdom one of the wealthiest and most influential in the empire. For the past few years he has trained to become the new consort of the High King. The only thing no one prepared him for was the stubborn, arrogant High King himself, who declares Allen useless and throws him out of court.
High King Sarrica is ruling an empire at war, and that war will grow exponentially worse if his carefully laid plans do not come to fruition. He's overwhelmed and needs help, as much as he hates to admit it, but it must be someone like his late consort: a soldier, someone who understands war, who is not unfamiliar with or afraid of the harsher elements of rule. What he doesn't need is the delicate, pretty little politician foisted on him right as everything goes wrong.
---
Post's Author Opinion:
Note: This is a personal opinion, it does not reflect YaoiOtaku's official position towards the novel.
Superb.. Captivating.. Awesome novel.. Megan really knows how to hook readers. She has really good way of writing minute details & Compact history. If you are looking for steamy sex story, this is no the one. But it's really beautiful story which takes us in different world.
Prince Allen was trained with languages & diplomacy to be consort of High King Sarrica but he was rebuked immediately for not being warrior & dismissed by king. But Allen refuses to accept defeat. I really liked Allen. Whatever challenges life thrown at him yet he always kept coming back for more, pushing forward with determination. Allen is smart, kind & intelligent.
I was waiting for High King to accept importance of Allen. When he accepts Allen, I couldn't help but grin. Allen teach us we don't need strength to be hero for king & country.
King sounded rude, Stubborn at first ( I actually started to hate that guy.. 😉 ) but eventually Sarrica comes to love & admire Allen. Overall this book is worth reading. Trust Megan Derr to take you in very different & wonderful fantasy world.
What's your opinion on High King's Golden Tongue novel? Please let us know in the comments below.