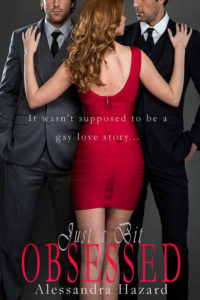 Novel: Just a Bit Obsessed
Author: Alessandra Hazard
Genres: Romance, Homoerotic.
Released: December 15, 2014
Part of Book Series: Straight Guys #2
Summary:
Alexander Sheldon likes order and control in his life. He isn't happy when his girlfriend invites another guy for a threesome. Alexander believes in monogamy, and he's never been good at sharing his things. It doesn't help that Christian rubs him the wrong way from the beginning.
But what starts as animosity turns into something else. Something unexpected and very wrong.
He was never supposed to touch Christian. He was never supposed to feel possessive of the guy. And he most definitely wasn't supposed to want Christian more than he wants his girlfriend.
It's a recipe for disaster.
---
Post's Author Opinion:
Note: This is a personal opinion, it does not reflect YaoiOtaku's official position towards the novel.
Just a Bit Obsessed is about Christian Ashford (the protagonist's best friend in the previous book). Chris is invited by a partner named Mila to make a trio, he accepts for the simple fact that he is attracted to Alexander Sheldon, Mila's boyfriend.
Alexander is constantly called the "perfect boyfriend" because he is the kind of guy who likes to have everything under control due to his turbulent childhood. However, when Christian comes into his life, the appearance of "perfect boy" disappears. Because in his interior arise emotions that he had never experienced before.
It's quite pleasant to read this second installment of the series, the author gives a unique touch that makes you feel the same as the characters.
What's your opinion on Just a Bit Obsessed novel? Please let us know in the comments below.