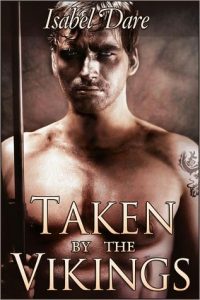 Novel: Taken by the Vikings
Author: Isabel Dare
Genres: M/M novel, Ménage à trois, fantasy
Released: April 27, 2013
Part of Book Series: Viking Sex Slave Series
Summary:
Desperate to protect his village, young Edric rams his small fishing boat into a Viking ship, and ends up captured by the Viking raiders.
When Viking leader Thorvald puts a slave collar around Edric's neck, Edric offers to pleasure the huge Viking in exchange for his freedom. But the other Vikings demand their share of their new thrall, and soon Edric finds himself on his knees, servicing the entire crew with his mouth, hands and ass in a vicious Viking gangbang…
---
Post's Author Opinion:
Note: This is a personal opinion, it does not reflect YaoiOtaku's official position towards the novel.
Welcome to the Edric Saga! Taken by the Vikings is the first book of the Viking Sex Slave series. It follows the story of Edric, a fisherman caught by a group of Vikings one night when he's out fishing. Later then, Edric became Thorvald's sex slave and he was shared by all other Vikings. Well written third person story and once again with all the reviews that I've done so far I'm here to warn you.
IF YOU ARE LOOKING FOR ROMANCE AND THEN PLEASE LOOK AWAY.
This is a story of raw smut. A story of a virgin Saxon captured and shared as a slave. This is a story of pure smut. The overall setting, the characters and the plot is good. Also, this is a bit of a non-con story. Not the non-con as r*pe but non-con because it used forced coercion in the plot. Edric knew he doesn't have a choice and he doesn't want to be another person to be sold so he just forced himself to do it. This is also a short story and there's not much of a character development but then again this is only the first book.
What's your opinion on Taken by the Vikings novel? Please let us know in the comments below.