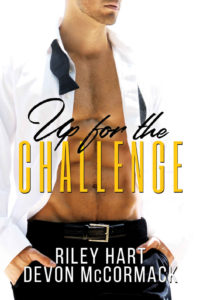 Novel: Up for the Challenge
Author: Riley Hart, Devon McCormack
Genres: contemporary
Released: September 18, 2017
Part of Book Series: standalone
Summary:
ETHAN:
I'm not used to anyone having the upper hand over me, and in a single night, Sean Wright rescues me twice. That's why he intrigues me–why for the first time, I want another man. I'm used to getting what I want, and I don't plan to let anything stop me. Only…he continues to get the best of me, and it only makes me want him more. When I start to see Sean's not just good looks, hot sex, and constant competition, I realize I'm in over my head…and I might like it. He makes me laugh, and he understands the pain I feel over my past, a pain we share. Even more than that, somehow, Sean gets me, but I'm not going to lie and pretend that giving my heart doesn't scare me.
SEAN:
The night I rescued the presumably straight Ethan Harris…twice, I figured that would be the last time I saw him. However, he keeps finding his way back into my life and into my bed. Guess he wasn't as straight as I thought. Ethan's full of surprises, though, and being bi is just one of them. As cocky as he can be, he's also sharp and witty…and even when he's being his most arrogant self, he's charming as hell. He likes to win, but so do I. However, as we get to know each other, I realize there's more to us than the games we play in and out of the bedroom. It's a game neither of us have played before–one we could both wind up losing. And with our hearts on the line, the real question is, when push comes to shove, are we both up for the challenge?
---
Post Author's Opinion:
Note: This is a personal opinion, it does not reflect YaoiOtaku's official position towards the novel.
Talk about one hot book! The sex between the main characters happens quite early, and doesn't let up at all. You would think that a guy who was previously straight would have a bit more angst and internal conflict over finding another guy attractive and sexy, but not Ethan. Maybe that's why I really liked this book – there wasn't any relationship angst at all. Plus, the banter between Ethan and Sean was very amusing to read. But even though these two guys are very competitive with each other, they can be very sweet and romantic as well.
Even though it's a romance at the core of it, Up for the Challenge also discusses themes of loss and recovery from loss. Despite that, it's not an angsty book. It's a book about learning to live with the loss, but also learning how to be happy after all the struggles you've been through. Ethan and Sean became rocks for each other, helping each other to confront the deaths of their respective loved ones, and also respecting the memories that the other has. Ethan and Sean can come across as childish (complete with ridiculous nicknames) when they're with each other, yes, but they help each other grow as people. That's what makes the book so sweet.
What's your opinion on Up for the Challenge novel? Please let us know in the comments below.