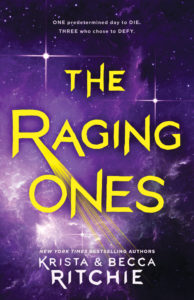 Novel: The Raging Ones
Author: Krista & Becca Ritchie
Genres: Young Adult/Sci-Fi/Romance
Released: August 14th 2018
Part of Book Series: The Raging Ones, Book 1
Summary:
In a freezing world, where everyone knows the day they will die, three teens break all odds.
Franny Bluecastle, a tough city teen, dreams of dying in opulence, to see wealth she's never known. Like the entire world, she believes it's impossible to dodge a deathday.
Until the day she does.
Court Icecastle knows wealth. He also knows pain. Spending five years in Vorkter Prison, a fortress of ice and suffering, he dreams of life beyond the people that haunt him and the world that imprisoned him.
Mykal Kickfall fights for those he loves. The rugged Hinterlander shares a frustrating yet unbreakable connection with Court—which only grows more lawless and chaotic as their senses and emotions connect with Franny.
With the threat of people learning they've dodged their deathdays, they must flee their planet to survive. But to do so, all three will have to hide their shared bond as they vie for a highly sought after spot in the newest mission to space. Against thousands of people far smarter, who'll live longer, and never fear death the way that they do.
---
Post's Author Opinion:
Note: This is a personal opinion, it does not reflect YaoiOtaku's official position towards the novel.
At first glance from the premise above, The Raging Ones could be misinterpreted as another YA Sci-Fi novel with a hetero Love Triangle trope. I mean, one girl and two boys brought together by their shared bond and needed to flee from their planet to survive? This setting gave me a cliché Love Triangle vibe I used to find in most of MF fiction so far.
Usually for this kind of book, I would have passed it up and moved on to search other potential YA novels in Sci-Fi/Fantasy genre with diverse and queer characters instead. But then I recalled Krista & Becca Ritchie also have written a romance novel series in MM genre. So there I went taking a blind dive into The Raging Ones while finger-crossing it would also give me at least a dash of sweet moments shared between the boy MCs . . .
And I was not disappointed at all! Not only a bittersweet MM romance with a ton of USTs that I loved to read, The Raging Ones had also a tender MMF platonic-relationship I never thought I would adore so much in my LGBTQ+ reading! I found this kind of platonic relationship between Franny, Court and Mykal so unique and refreshing. Despite the boys had romantic feeling for each other, they didn't forget nor dismiss their shared bond with Franny. They really cared for her and Franny herself came to trasure her shared bond with the boys.
Beside the precious relationship shared between Franny, Court, and Mykal, I also liked how Krista & Becca Ritchie built the character development of these MCs throughout the book. Especially Court, who in the first part of the story seemed so distant and cold, mostly repressed his emotion, gave some angsty vibes, kept his history vague and unclear. Unlike Mykal (who was stubborn, caring, adorkable) and Franny (who was brash, determined, protective), Court's character was a mystery to me. But fortunately in the second part, Court had opened up more and tried to be honest about his emotion with Mykal & Franny.
Overall, The Raging Ones was brilliant, intriguing, and well-written. Although the ending was in unexpected cliffhanger, I still enjoyed the book and will definitely look forward to the following Book 2 next year.
What's your opinion on The Raging Ones novel? Please let us know in the comments below.