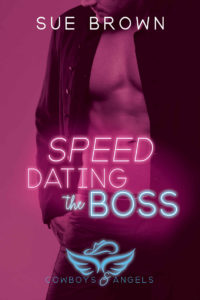 Novel: Speed Dating the Boss
Author: Sue Brown
Genres: contemporary
Released: June 26, 2018
Part of Book Series: Cowboys and Angels, Book 1
Summary:
Will a mix of privilege and blue collar be a recipe for love… or disaster?
Dan's pretty satisfied with his job at the working-class bar Cowboys and Angels. He enjoys his simple life, his apartment, and his cat, but he could do without the fights that break out in the bar, his boss's meddling daughter, Ariel… oh, and a brutal, unrequited crush on his straight alpha boss, Gideon.
When Dan's friend prepares to tie the knot, everyone insists that Dan needs a date for the wedding. Before he can protest, Ariel arranges a gay speed-dating event at the bar with Gideon as a participant. The unforeseen revelation that Gideon is bisexual raises Dan's hopes, especially when Gideon announces that he wants to accompany Dan to the wedding. Could Gideon really be interested in Dan?
When Dan needs someone most, Gideon offers his unconditional support, and with genuine commitment, he shows Dan the kind of man he really is. Teaming up to save the wedding from a hungover groom and intolerant parents, can Gideon convince Dan they're the best match since beer and pizza?
---
Post Author's Opinion:
Note: This is a personal opinion, it does not reflect YaoiOtaku's official position towards the novel.
It's hard for me to describe this book. It's not a slow burn by any means, but it's not a case of instant love either. Rather, it's a book that shows you how two men, who've had feelings for each other for a long time already, finally get together. The angst is minimal, which I really appreciated, and their developing relationship unfolded quietly, softly. There was no big dramatic situation, though there were a few instances of misunderstandings. Thankfully, those get cleared up very quickly.
The book reads like a slice-of-life manga at times – many of the scenes involve mundane tasks, or interactions between the main characters and some of the secondary characters. However, these scenes didn't feel unnecessary to me, since they offered a glimpse into the growing romance between Dan and Gideon. The sex doesn't quite happen until around the 80% mark of the book, but it's not something I minded. Leading up to the sex, there's enough affection and romantic actions between Dan and Gideon that kept the hopeless romantic in me deeply satisfied.
What's your opinion on Speed Dating the Boss novel? Please let us know in the comments below.