---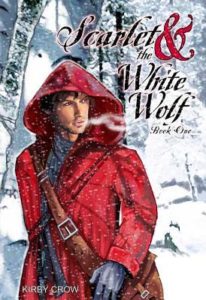 Novel: The Pedlar & the Bandit King
Author: Kirby Crow
Genres: M/M Fantasy Romance
Released: 2006
Part of Book Series: Scarlet & white wolf Series Book 1
Summary:Scarlet of Lysia is an honest peddler, a young merchant traveling the wild, undefended roads to support his aging parents. Liall, called the Wolf of Omara, is the handsome, world-weary chieftain of a tribe of bandits blocking a mountain road that Scarlet needs to cross. When Liall jokingly demands a carnal toll for the privilege, Scarlet refuses and an inventive battle of wills ensues, with disastrous results. Scarlet is convinced that Liall is a worthless, immoral rogue, but when the hostile countryside explodes into violence and Liall unexpectedly fights to save the lives of Scarlet's family, Scarlet is forced to admit that the Wolf is not the worst ally he could have, but what price will proud Scarlet ultimately have to pay for Liall's friendship?
---
Post's Author Opinion:
Note: This is a personal opinion, it does not reflect YaoiOtaku's official position towards the novel.
It is one of very first book I read in M/M romance. I am really glad & happy that I chose this book to read. When I laid eyes on this book, I thought it's M/M version of ' Little Red Riding Hood' but it's not.. 😀
I thoroughly enjoyed reading this captivating novel set in fantasy place with intriguing world of various races & ethnicities. Scarlet is young pedler who is member of ancient Hilurin race which is on way of extinction. Fear of Hilurin magic has subjected them to overright hostility & resentment. But Our young protege here is different. He is restless & wants to enjoy life traveling merchant.
Liall comes from far place in North & he is chief for tribe charging toll to access busy mountain pass from merchants. As our scarlet has been traveling this pass past 14 years without paying toll, he denies to pay toll & they collide.
Chief liall aka white wolf is attracted to pretty face of pedlar & intrigued by his history. But two of them didn't get good start & had very tough start. Scarlet is attracted to liall too behind his mask of anger. Slowly lives build up like kindling fire & also our story. Author has involved plenty of interesting characters, family relationships & awesome world.
I really love the way their love builds up particularly unsuccessful attempts by pedlar to cross mountain pass without paying toll which all were thwarted by Liall. Scarlet is innocent yet strong willed with serious inner strength. Liall was aware of consequences of growing love for this young pedlar though he remains mystery to me.
I would like to join their journey further north. This book is really awesome & worth reading.. 😀
What's your opinion on The Pedlar and Bandit King novel? Please let us know in the comments below.