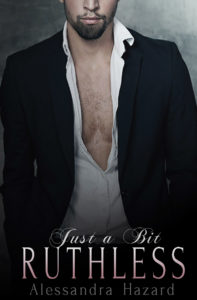 Novel: Just a Bit Ruthless
Author: Alessandra Hazard
Genres: Romance, Homoerotic.
Released: N/A
Part of Book Series: Straight Guys #6
Summary:
Stockholm syndrome or Love?
When you want someone completely wrong for you…
Luke Whitford has always dreamed of meeting Mr. Right. A hopeless romantic at heart, he dreams of falling in love with a nice man, getting married, and having a bunch of adorable babies. The problem is, Luke has the propensity for being attracted to men who are anything but nice.
Roman Demidov, a homophobic, cynical billionaire who has a grudge against Luke's father, is certainly not Mr. Right. Cold, manipulative, and ruthless, he's not a nice man and he doesn't pretend to be.
Luke is fully aware that Roman is all wrong for him. His attraction to the guy is just some sort of Stockholm syndrome; it must be. If life were a fairy tale, Roman would be the main villain, not the hero.
But even villains can fall in love. Or can they?
The story of a boy who dreamed of Prince Charming and ended up falling for the Beast.
This novel contains derogatory language, mentions of violence, explicit M/M sex, strong D/s dynamic (without sadomasochism).
---
Post's Author Opinion:
Note: This is a personal opinion, it does not reflect YaoiOtaku's official position towards the novel.
In this book we have Luke Whitford, James' friend —Just a Bit Confusing— and Roman Demidov."
In the last "moments" of the previous book, Luke told James that he would meet with Roman, so he expected to see himself as a big brother. I have to emphasize that Luke is not taken seriously because of his angelic appearance (above all his lips, which give the impression of making a pout). In short, Luke meets Roman but the meeting has no success, being thus kidnapped by this powerful man, who is an enemy of Luke's father.
In the first part, Roman has a plan to make Luke completely dependent on him, having control of the Whitford companies when he inherited them. However, this plan fails when intimate contacts begin —feelings, kisses, sex, etc. Now, in the second part Luke tries to overcome Roman after being two months with him. This simply won't praise him, despite his attempts to feel something for a boy James introduced, called Dominic. He even seeks help with a therapist, convinced that he has the Stockholm Syndrome. In the end he gives up and gives in to the fact of being in love with Roman, even though he is not the perfect man of his dreams.
Honestly, I would have liked a more concrete ending; for example, that Luke's dreams —getting married and having children— would take place after having formalized his relationship with Roman. But if the author decided that this was perfect, I have to accept it. In any case, it is easy to love this book from beginning to end, although some things aren't how you expected.
What's your opinion on Just a Bit Ruthless novel? Please let us know in the comments below.