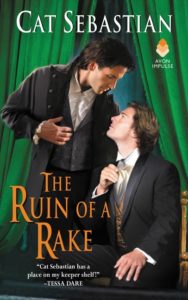 Novel: The Ruin of a Rake
Author: Cat Sebastian
Genres: historical
Released: July 4, 2017
Part of Book Series: The Turner Series, Book 3
Summary:
Rogue. Libertine. Rake. Lord Courtenay has been called many things and has never much cared. But after the publication of a salacious novel supposedly based on his exploits, he finds himself shunned from society. Unable to see his nephew, he is willing to do anything to improve his reputation, even if that means spending time with the most proper man in London.

Julian Medlock has spent years becoming the epitome of correct behavior. As far as he cares, if Courtenay finds himself in hot water, it's his own fault for behaving so badly—and being so blasted irresistible. But when Julian's sister asks him to rehabilitate Courtenay's image, Julian is forced to spend time with the man he loathes—and lusts after—most.

As Courtenay begins to yearn for a love he fears he doesn't deserve, Julian starts to understand how desire can drive a man to abandon all sense of propriety. But he has secrets he's determined to keep, because if the truth came out, it would ruin everyone he loves. Together, they must decide what they're willing to risk for love.
---
Post Author's Opinion:
Note: This is a personal opinion, it does not reflect YaoiOtaku's official position towards the novel.
This is, no doubt, my favorite book of the series.
Julian is not an easy character to like. He's cold, judgmental, and prickly – he's basically an ice queen. Maybe a tsundere on a good day. But for some reason I was really drawn to him, because underneath his shell, he's still that vulnerable and sickly child who constantly seeks out validation and acceptance. Courtenay, on the other hand, is a far more likeable man than he seemed back in The Lawrence Browne Affair. Beneath the air of carelessness and underneath the brash behavior is a deeply generous man, who loves with his whole heart.
And these two men, so different from each other, are perfect together. Throughout the book you see how they balance each other every single time they're together. Courtenay brings out the protective tendencies in Julian, who hasn't allowed himself to care for anyone else besides his own self and his sister in a long while. And Julian brings out Courtenay's warmth, all those tender feelings and affections that Courtenay thought he wasn't quite capable of when he lost his sister and when he was forbidden to see his own nephew. Courtenay and Julian are such imperfect characters, but together they fit like two puzzle pieces, and they find family and love.
What's your opinion on The Ruin of a Rake novel? Please let us know in the comments below.