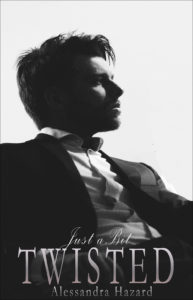 Novel: Just a Bit Twisted
Author: Alessandra Hazard
Genres: Romance, Homoerotic.
Released: December 15, 2014
Part of Book Series: Straight Guys #1
Summary:
Professor Derek Rutledge is hated and feared by all of his students. Strict, reserved and ruthless, he doesn't tolerate mistakes and has little patience for his students.
Shawn Wyatt is a twenty-year-old struggling to provide for his younger sisters after the death of their parents. On the verge of losing his scholarship, Shawn becomes desperate enough to go to Professor Rutledge.
Everyone says Rutledge doesn't have a heart. Everyone says he's a ruthless bastard. Shawn finds out that everyone is right.
He strikes a deal with Rutledge, but unexpectedly, the deal turns into something so much more.
Something all-consuming and addictive.
Something neither of them wants.
---
Post's Author Opinion:
Note: This is a personal opinion, it does not reflect YaoiOtaku's official position towards the novel.
This book tells the story of Shawn, a student who could lose his scholarship because he is always working to support himself and his sisters. So he follows the advice of Christian (his best friend) and decides to flirt with Professor Derek, who refuses to help him pass his subject.
From this a kind of relationship develops between them, in which we discover a little more about their respective lives.
The story becomes more intense and romantic in each chapter, the only negative point is its short duration.
What's your opinion on Just a Bit Twisted novel? Please let us know in the comments below.