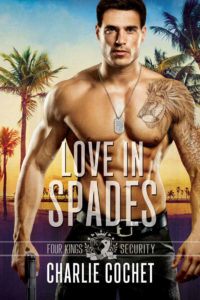 Novel: Love in Spades
Author: Charlie Cochet
Genres: contemporary, suspense
Released: April 21, 2018
Part of Book Series: Four Kings Security, Book 1
Summary:
When the cards are stacked against you, the Kings will even the odds.
Ex-Special Forces soldier Anston "Ace" Sharpe is fighting a different battle these days—one involving the world of private security across the state of Florida. As part owner of Four Kings Security, Ace and his fellow Kings tackle everything from armed transport and investigations to cyber intelligence and executive protection. Cocky, fearless, and brash, Ace isn't afraid to take risks.
After years of working alongside his father, Colton Connolly is ready to take the helm at Connolly Maritime, but his father's retirement is put on hold when Colton begins receiving death threats. If that isn't bad enough, his father signs a contract with Four Kings Security to provide Colton with round-the-clock protection, despite his adamant refusal. Colton's life has been turned upside down, the last thing he needs is a shadow, especially in the form of infuriating, sexy-as-sin Ace Sharpe, who seems to be on a mission to drive Colton mad.
Sparks fly the moment Colton and Ace meet on a sultry night club dance floor. But getting involved with a client, even one as fiery and beautiful as Colton Connolly, is a line Ace is unwilling to cross. Colton might be attracted to Ace, but he'd been burned before. He might be willing to put his life in Ace's hands, but not his heart.
As the Florida nights heat up, so does their passion, and Ace and Colton are faced with a difficult choice—take the plunge and risk it all, or play it safe and walk away?
If Ace can keep a deadly threat from robbing Colton of a future….
---
Post Author's Opinion:
Note: This is a personal opinion, it does not reflect YaoiOtaku's official position towards the novel.
This is the quintessential Charlie Cochet novel – ensemble cast, humorous and laugh-out-loud moments, slightly over-the-top plot. And I still love it. There's a reason why her books are so popular! She writes some of the most hilarious characters you can't help but love, and their stories drag you in until you realize you can't escape their clutches.
Love in Spades is no different. Here we meet the four owners of Four Kings Security and follow them as they, one-by-one, fall in love and get their happy ending. As much of a happy ending as they can get, of course, given all the craziness in their lives. Ace and Colton's unresolved sexual tension is seriously steamy, and when they finally get together, the sex is off-the-charts. But they're also sweet and tender, and maybe just on this side of too sappy. But I didn't mind at all. Nobody ever said men couldn't be romantic with each other.
The mystery and suspense aspect of it was maybe a little bit too predictable, and the significance of it faded away in the middle part of the book – but it comes roaring back in the climax and makes for some pretty exhilarating action. It's a good complement to the romance.
I'm definitely eagerly awaiting the second book, which should be coming out in a few days or so.
What's your opinion on Love in Spades novel? Please let us know in the comments below.