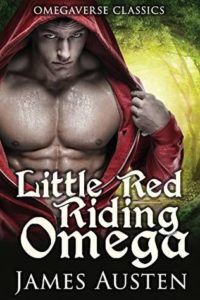 ] Novel: Little Red Riding Omega
Author: James Austen
Genres: M/M Romance, Fantasy
Released:October 11, 2015
Part of Book Series: Omegaverse Classic
Summary:
As MPreg authors, we at Omegaverse Classics are always thinking about the world as it might have been–a world in which alphas and omegas fall in love and have babies and spend their lives together. And how do these stories of love, of "once upon a time," of "happily ever after" become ingrained in our hearts and minds? Through the stories we tell our children! Through fairy tales. And through those classic stories we read in school.
​We want our alphas and omegas to grow up in a world where these stories are available to them, too–so we are telling those stories anew!​
Welcome to Omegaverse Classics, where you can find the stories you love…with an Mpreg twist.
---
Post's Author Opinion:
Note: This is a personal opinion, it does not reflect YaoiOtaku's official position towards the novel.
Before opening this book, I found myself imagining an adventure: A young and charming omega clad in red hood living in a peaceful life until one day his grandmother or grandfather, the former pack leader was taken away. In exchange of the former leader's pack, the Big Bad Wolf wanted Red Riding Hood as the ransom. Their pack doesn't have a choice until on the same fated day, the Alpha Huntsman came.
But yeah, I was wrong. The story opening to an ordinary fairy tale twisted by the ABO dynamics. The words used were the words also used in a child's fairy tale book, like it was just copied and later on edited.
It started with the classic 'Once upon a time' and ended with 'And they lived happily ever after'. There's not much of character's description and background and the ending is a little. . . Anticlimactic.
After reading this, I will not say that this is a bad story. This story is in fact, written to be light-hearted based on the words used. The story also stick to the innocence of a fairy tale: nothing too graphic and nothing too heavy. A little tweak and this might become more interesting.