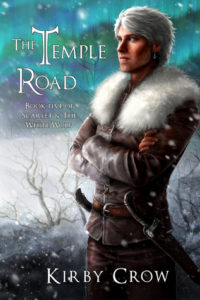 Novel: The Temple Road Novel
Author: Kirby Crow
Genres: M/M Fantasy Romance
Released: 25th April 2018
Part of Book Series: Scarlet & White Wolf series Book 5
Summary: Scarlet and Liall set out with the king's army on a perilous journey to the frozen heart of Rshan. As Scarlet's fabled magic begins to change, Liall places their entwined fates into the hands of those who covet magic above all else, but will they save Scarlet or enslave him?
---
Post's Author Opinion:
Note: This is a personal opinion, it does not reflect YaoiOtaku's official position towards the novel.
This book takes us on journey of temple road as the name suggests. Liall had taken advice of ancient one to the heart & set upon perilous journey to the heart of Rshan with Kings army. Scarlet magic is growing uncontrollable & Liall seems to have put their entwined dates in the hand of ancient ones.
There is plenty of development in the relationship of Liall & Scarlet in this book. Their thoughts revolves each other like bee around flower. This book revolves around the Liall more than scarlet. We get to see different different sides of Liall from ruthless Rshan king to tender hearted lover for his Pedlar. This book has plenty of thrill, suspense, action which makes you excite in anticipation of what will happen next. At some portions it made me really cry, couldn't ignore tugs to my heart. Prior to ending of this very interesting plots get revealed & path were set for next source. Again this books ends in cliffhanger lefts you somewhat in frustration & excited in the anticipation of what will happen next. I really hope author takes pity on us &  release the next book earliest as possible. I really can't wait to see the next book. Enjoy Reading guys..!!  😉
What's your opinion on The Temple Road novel? Please let us know in the comments below.