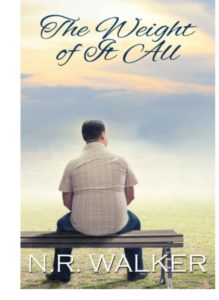 Novel: The Weight Of It All
Author: N. R. Walker
Genres: Contemporary,  M/M Romance
Released: September,  2016
Part of Book Series: The Weight Of It All
Summary:
After being dumped by his long-term boyfriend for being overweight, Henry Beckett decides to make some drastic changes. In a vain attempt at getting his boyfriend back, Henry does the most absurdly frightening thing he can think of.
He joins a gym.
Reed Henske is a personal trainer who isn't sure he'll ever be ready to date again. He's sick of guys who are only interested in the perfect body image, never seeing him for who he really is.
As Reed tortures Henry with things like diet and exercise, Henry enamours Reed with recipes and laughter. As the friendship lines start to blur, Henry is convinced there's no way Thor-like Reed could ever be interested in a guy like him.
Reed just has to convince Henry that life isn't about reaching your ideal bodyweight. It's about finding your perfect counterweight.
---
Post's Author Opinion:
Note: This is a personal opinion, it does not reflect YaoiOtaku's official position towards the novel.
The story handles humour weaven in its essence. About stagnant relationship and overweight, about how what's inside is worth and that's all that matters for the right person. When reading there will be lots of laugh-out-loud moments but you start replaying some serious comments inside your head, thinking them over. A little LOR and HP moments to reminisce, shake your head and laugh. The whole book has quotable moments
*******
"I wouldn't have thought it was possible, but here I was, jogging my heart out. Proof that I'd made a decision to get control of my life back, and it was working."
******
"I should ask though if the ambulance service will drive behind me, you know like they do at the horse races?"
"There's a café about half way."
"Ooh," I brightened. "Coffee. Defibrillation. Same thing really."
******
What's your opinion on The Weight Of It All novel? Please let us know in the comments below.