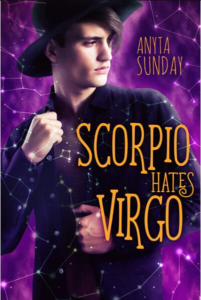 Novel: Scorpio Hates Virgo
Author: Anyta Sunday
Genres: contemporary, new adult
Released: August 30, 2017
Part of Book Series: Signs of Love, Book 2
Summary:
This year is all about healing the heart, Scorpio. It's time to leave negative attitudes and stoic facades at the door and let others see the real, more vulnerable you.
Percy Freedman is not grieving. Absolutely not, take that back at once. No, he's entirely sure that selling his dead aunt's home and leaving the neighbors he's known for years is the sane thing to do. Who in their right mind would keep the house that smells like all the hugs he'll never have again?
Nobody, that's who.
Well, except his cul-de-sac neighbors. They all seem to think some paint and new furniture will clean the emotional slate. They all want him to stay.
Even his nemesis, Callaghan Glover.
Especially his nemesis, Callaghan Glover.
Lured into a game of Sherlock Gnomes, Percy finds himself hanging out with his neighbors more than might be considered healthy. Along with juggling new and surprising verbal grenades from Cal, and his burgeoning friendship with Gnomber9, Percy is starting to wonder if selling might have been the grief talking after all . . .
That's right, Scorpio. With a little patience, heartbreak might be a thing of the past . . .
---
Post Author's Opinion:
Note: This is a personal opinion, it does not reflect YaoiOtaku's official position towards the novel.
Probably one of my favorite books now. There's just something so relatable about Percy for me, and I found myself tearing up a few times while reading the book. While Percy can be frustrating at times, he was nowhere near as oblivious as Theo was in the first book, and you realize that Percy is surprisingly self-aware too. His vulnerabilities and insecurities tugged at my heartstrings, and I found myself really connecting with him as a character and actively rooting for his happiness.
I love how centered on family and love this book is – what makes a group of people a family, and also what love manifests as. Cal and Jamie (from the first book) are different characters, but the intentions behind their actions towards the men they love are fundamentally the same. It was so sweet to read all about how Cal tried to subtly show his love for Percy. His and the cul-de-sac neighbors' actions can get a bit too cheesy sometimes, but I didn't mind at all. As I said above, I was really actively rooting for Percy and his happiness, and it was clear that everyone else in Percy's neighborhood was, as well. It's very refreshing to read a book about truly good people, and about communities founded on friendship and family.
Par for the course with Anyta Sunday's novels, the characters are quirky and fun, and very funny. The romance is still a deliciously excruciating slow burn, but once the love gets going, oh boy! While I consider this book to have been emotional at times, there's still a good balance of snark between Cal and Percy. The other neighbors come to life as well – some more than others, of course. Jamie and Theo appear for quite a bit too, for fans of the first book!
What's your opinion on Scorpio Hates Virgo novel? Please let us know in the comments below.