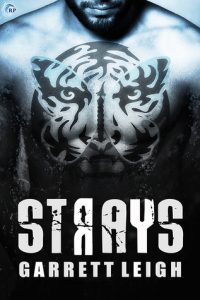 Novel: Strays
Author: Garrett Leigh
Genres: Romance
Released: 2017
Part of Book Series: Urban Soul #2
Summary: Work, sleep, work, repeat. Nero's lonely life suits him just fine until his best friend, Cass, asks him to take on a new apprentice—a beautiful young man who's never set foot in a professional kitchen. Despite his irritation and his lifelong ability to shut the world out, Nero is mesmerised by the vibrant stray, especially when he learns what drove him to seek sanctuary on Nero's battered old couch.
Lenny Mitchell is living under a cloud of fear. Pursued by a stalker, he has nowhere left to run until Nero offers him a port in a storm—a job at the hottest restaurant in Shepherd's Bush. Kitchen life proves heady and addictive, and it's not long before he finds himself falling hard and fast for the man who has taken him in.
Fast-forward a month and a neither man can imagine life without the other, but one thing stands in their way: a lifetime of horrors Nero can't bring himself to share with Lenny. Or can he? For the first time ever, happiness is there for the taking, and Nero must learn to embrace it before fate steps in and rips it away.
---
Post's Author Opinion:
Note: This is a personal opinion, it does not reflect YaoiOtaku's official position towards the novel.
The second part of the Urban Soul series did not disappoint. I enjoyed it just as much and I absolutely loved that the characters from Misfits were not forgotten. I would have been sad if there would have been no mention of Tom, Jake and Cass, although they were not the main characters here.
We first got to see Nero in Misfits and although the encounters were brief, we got enough to make us wonder what his deal is. There was a particular scene that made me say hmm, something's up and I was glad to discover something indeed was up when I started reading the sequel.
While Nero is no stranger, Lenny is completely new to the series, but he fit in just fine. With trouble on his tail (a.k.a. stalker) he found safety plopped on Nero's couch who reluctantly at first agrees to help Lenny. Of course, as expected, things only got complicated from then on.
I liked Neo and Lenny right from the start and I was also really anxious for Lenny. He was terrified of the man that was almost always in a corner of his eye, lurking in the shadows, watching him. He was understandably afraid and felt unsafe. Luckily, Nero was there ready to protect Lenny.
Nero and Lenny start off as strangers and it takes a while for them to figure out what they need from each other. Some stories are hard to tell, but if this relationship is going to work, both of them need to learn to trust one another and be open about their past and their worries. Some aspects of their early relationship made me frown a little at first, but later when I thought about it, it made a lot of sense why they would do or wouldn't do something.
Nero is the type of guy used to be by himself, used to keep his feelings hidden, and being like that, it's hard to let someone in. Truthfully, he'd rather do things on his terms and the other party has no choice other than to take it or leave it. Lenny on the other hand, is not the type to compromise, so he demands all from Nero. This proves to be a big issue, but none of them wants to lose the other, not after they got a taste of what it could be like. I actually liked their struggle, the way they tried to make it right. It was fun to see how they would act and what they would think when not having all the information. Of course, it was way more exciting seeing how I didn't know all of the story either.
Same as Misfits, Strays is not a heartbreaking story, but it has that bit that it needs to keep things exciting.
What's your opinion on Strays novel? Please let us know in the comments below.