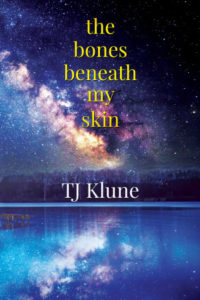 Novel: The Bones Beneath My Skin
Author: T.J. Klune
Genres: Sci-Fi/Contemporary/Romance
Released: October 26th 2018
Part of Book Series: Standalone
Summary:
In the spring of 1995, Nate Cartwright has lost everything: his parents are dead, his older brother wants nothing to do with him, and he's been fired from his job as a journalist in Washington DC.
With nothing left to lose, he returns to his family's summer cabin outside the small mountain town of Roseland, Oregon to try and find some sense of direction.
The cabin should be empty.
It's not.
Inside is a man named Alex. And with him is an extraordinary little girl who calls herself Artemis Darth Vader.
Artemis, who isn't exactly as she appears.
Soon it becomes clear that Nate must make a choice: let himself drown in the memories of his past, or fight for a future he never thought possible.
Because the girl is special. And forces are descending upon them who want nothing more than to control her.
---
Post's Author Opinion:
Note: This is a personal opinion, it does not reflect YaoiOtaku's official position towards the novel.
I always love reading books written by T.J. Klune. Although I haven't read many of his books, but he surely has become one of my favorite authors in MM genre. Some of his books I love the most are Wolfsong, How to Be a Normal Person, and The Lightning Struck Heart. With those books he has this distinctive writing style, fresh and unique storyline, plus endearing MCs and likable side characters.
So what about The Bones Beneath My Skin, his latest book which was self-published this month?
Well, of course, it was another awesome story, as expected from the talented T.J. Klune.
It had slow beginning, yet with some misunderstanding and conflict between Nate the MC and Alex the other protagonist. But it still felt calm and then became domestic. There were also hilarious scenes and cute moments, all thanks to Artemis Darth Vader, the girl deuteragonist and my favorite character.
But then, around 35% into the story? The plot unexpectedly thickened with full of action scenes. It was all intriguing, I couldn't seem to put the book down and spent my day to read it in one sitting!
Overall, The Bones Beneath My Skin was an enjoyable read. There was also a slow burn romance that I liked between Nate and Alex. But to tell you the truth, what I loved the most from this story was the precious bond and heartwarming father-daughter like relationship Alex and Artemis had together.
What's your opinion on The Bones Beneath My Skin novel? Please let us know in the comments below.