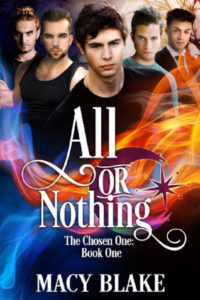 Novel: All or Nothing
Author: Macy Blake
Genres: paranormal, polyamory
Released: July 24, 2018
Part of Book Series: The Chosen One, Book 1
Summary:
Sawyer Smith is preparing to take on the world, and with his graduate degree only days away, he's hoping to convince his gorgeous best friend and neighbor to come along for the ride. There's only one problem; Draco has a secret, a big scaly secret, and it's about to change Sawyer's life forever.

When three mysterious men move into the new mansion across the street, Sawyer is plunged into a fantastical world he never knew existed, one filled with creatures of legend. Discovering the truth about Draco and his role as guardian of The Chosen One is only the tip of the paranormal iceberg.

Being drawn to this strange new world is challenging enough, but then Sawyer finds himself attracted to all The Chosen One's guardians. Giving into his desire comes with incredible risks. Once the chosen one is found, Sawyer will return to his human life, without the guardians, without Draco.

As danger mounts, Sawyer must choose between guarding his heart from the men he grows closer to by the day, or give in and risk losing it all.
---
Post Author's Opinion:
Note: This is a personal opinion, it does not reflect YaoiOtaku's official position towards the novel.
I don't like harem romances. I feel like they're inherently imbalanced, and I would very much prefer polyamory than harem. To start, I just want to point out that while this book is being marketed as a harem romance, it is not, in fact, a harem romance. Harems usually mean that the multitude of characters (in this case, the guardians) are only in love with the main protagonist and not with each other, but that's not the case in this series. While, yes, majority of the focus is centered on Sawyer and Draco, all of the main characters introduced in this book are attracted to each other. This series is polyamory, and not harem. Please don't be turned off by the description!
Now that the harem-or-polyamory issue has been clarified, I just want to say that I found this to be quite a strong debut novel! While the book is heavy on the sex scenes and light on the plot, I felt like the sex was less gratuitous and more like a way for the author to show the growing connection among the main characters introduced in this first book. It might annoy someone who's looking for more plot, really, but I've been assured that the second book in the series focuses on plot stuff anyway, so all is well! Most of the plot in All or Nothing happens right in the beginning of the book and right at the end. I have to admit that Sawyer's easy acceptance of the paranormal aspects of the book to be a bit unrealistic. But, admittedly, with how many fantasy and paranormal books I've already read in my lifetime, I would probably accept anything at this point in my life too. So I can't blame Sawyer too much there.
Overall, this was a pretty decent debut for the author. There were a bit of pacing issues, especially since the middle part of the book was all sex, really. And I would've sincerely loved a little bit more backstory for some of the characters. However, for pure escapism and for a steamy read (with a bonus kink that I really enjoy!), this definitely hits the spot. I'm hoping, though, that the next book will push the plot forward a little bit more!
What's your opinion on All or Nothing novel? Please let us know in the comments below.