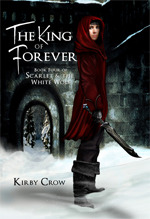 Novel: The King Of Forever
Author: Kirby Crow
Genres: M/M Fantasy Romance
Released: 10th July 2015
Part of Book Series: Scarlet & white Wolf Book 4
Summary: The sun has returned to the Land of Night and Liall has claimed a throne he never wanted, but many still oppose the presence of his beloved Scarlet at court. While the powerful barons clamor for a royal heir to secure the succession, rumors fly of Liall's marriage to a baron's daughter, driving a painful wedge between the lovers.
But the proposed marriage of Lady Ressilka isn't the only reason Scarlet has grown distant. His magic is changing, mutating into a dangerous power he does not understand, and the only people who might be able to help him control it are the Ancients, who once tried to murder him.
When the borders of Rshan are threatened and war looms, Liall agrees to a forbidden pact to save Scarlet, but the bargain may cost the Wolf his life.
---
Post's Author Opinion:
Note: This is a personal opinion, it does not reflect YaoiOtaku's official position towards the novel.
More mystery… More dangers… Intriguing plot.. Brilliant writing.. What can I ask for more..?? I seriously love this series..
This book give us more insight into Hilurin magic, shining ones, Deva & about Liall ( The king now) & scarlet in their respective roles Rshan & Hardship they are facing. It's good to see Liall as king not so different from Bandit King, but leadership comes with its own set of challenges & difficulties.
It is established that now liall & scarlet are couple. People had accepted Liall as king despite his past but oppose the Scarlet in court. Rumours have been ripe for possible marriage of Liall to daughter of powerful baron for royal heir to secure the succession. It really causes painful dissent in Scarlet's mind. Scarlet magic is growing uncontrollable & manifesting into something dangerous that he doesn't understand causing him stay away from Liall. I really thought political plots & secrets were over in last part, but that was just the beginning & with war looming over the horizon, it's only matter of before things get disastrous. Liall agrees to forbidden pact with ancient one in order to protect scarlet which will have its own consequences. Please note that this books ends in cliffhanger (Making me wanting for more). I can't wait to get my hands on next book. Enjoy the reading guys.. 😉
What's your opinion on The King of Forever novel? Please let us know in the comments below.