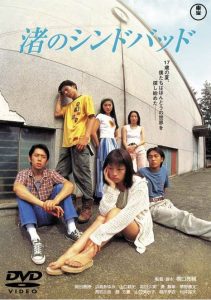 Movie: Like Grains of Sand
Alt. Names: 渚のシンドバッド, Nagisa no Shindobaddo

Genres: Drama
Released: 1995
Status: Complete
Country of Origin: Japan
Summary: A coming-of-age story. Shuji, a Japanese teen, is falling in love with his friend Hiroyuki. However, Hiroyuki is attracted to Kasane, the new girl in their class.
Download Like Grains of Sand Movie:
Like Grains of Sand
Watch Like Grains of Sand Online:
N/A
---
Post's Author Opinion:
Note: This is a personal opinion, it does not reflect YaoiOtaku's official position towards the movie.
I really, really like movies like this one. Japanese dramas in general have a certain vibe, something calm, a sort of rush, but without rushing. This movie is no different.
Like Grains of Sand deals with a variety of topics, from bullying to homosexuality to rape to plain teenage torments. It's not only a coming of age film, but so much more. It shows the awkwardness of being a teenager and confusion in front of new feelings; we see a group of kids basically learning how to be.
The movie is masterfully made, I enjoyed the long scenes, the casting is about perfect with amazing chemistry between the characters and great display of their inner struggles. I could not have asked for a better movie to watch right now (as I just finished watching it) and it sure opened my appetite for more of Ryosuke Hashiguchi's creations.
What's your opinion on Like Grains of Sand movie? Please let us know in the comments below.