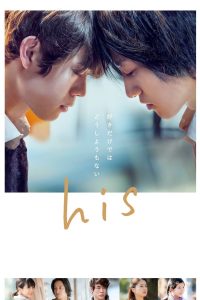 Movie: his – What Is Love
Alt. Names: his
Genres: Romance, Drama
Released: 2020
Status: Complete
Country of Origin: Complete
Summary: Male high school students, Shun and Nagisa first meet and fall in love with each other. Around the time when Shun is about to graduate from a university, Nagisa tells him that he can't see a future with him. They decide to break up. Years later, Shun lives alone in a rural area. Nagisa and his 6-year-old daughter, Sora, appear in front of Shun.
Download his – What Is Love Movie:
n/a
Watch his – What Is Love Online:
n/a
---
Post's Author Opinion:
Note: This is a personal opinion, it does not reflect YaoiOtaku's official position towards the movie.
mild spoilers ahead
Unexpectedly good movie. I was ready for something good based on the synopsis and ratings, but it was slightly better than anticipated.
I liked Shun from the very start, but I was a little weary of Nagisa. I feel like he took Shun for granted and expected him to just do what Nagisa wanted. He was being unfair to Shun while giving him no explanation. I started liking him more after he properly apologised and admitted to his wrongdoings, but I still don't like him 100%. I do think Shun and Nagisa make a great pair and there was definitely chemistry between the characters.
The movie deals with things like gay couples rising a child, struggling to conform to social norms and accepting one's own sexuality which I thought was really cool.
A+ acting from everyone; Keiko Toda was great, I was cheering for her during the court scenes, and Sora might be one of the sweetest kids I saw in a movie (which is huge coming from me), she was just adorable.
Ultimately my favourite was Shun, he stayed true to his principles throughout the movie and there was a bit of character growth too. I liked how he bonded with Sora and how supportive he was of Nagisa.
Definitely a really good watch!
What's your opinion on his – What Is Love movie? Please let us know in the comments below.