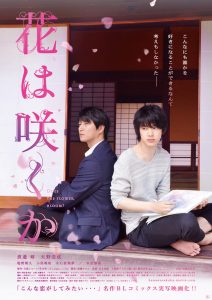 Movie: Hana wa Saku ka
Alt. Names: 花は咲くか, Does the Flower Bloom?, Does the Flower Blossom?
Genres: Romance, Drama, Slice of Life
Released: 2018
Status: Complete
Country of Origin: Japan
Summary: Kazuaki Sakurai is a 37-year-old man working at an advertising agency. For a CM shooting, he goes to a beautiful house. At the house, he meets Yoichi Minagawa while he is painting a picture. Yoichi Minagawa is a 19-year-old art student. He lives with his cousins in the big old house. Kazuaki Sakurai becomes attracted to Yoichi Minagawa. Meanwhile, Yoichi Minagawa is only interested painting, but he begins to take an interest in Kazuaki Sakurai.
Download Hana wa Saku ka Movie:
n/a
Watch Hana wa Saku ka Online:
n/a
---
Post's Author Opinion:
Note: This is a personal opinion, it does not reflect YaoiOtaku's official position towards the novel.
This was nice. Not even close to being one of my favourites, but it was okay. The story doesn't stand out in any way, there's nothing catchy about it, the acting is pretty much average (although I did like the characters) and my first thought after watching it was to look up the manga because I kept getting manga vibes from it. Sure enough, the film is a manga adaptation. Since I enjoyed the film I'm pretty sure I'm going to like the manga as well and I suspect I would have been disappointed in the film if I would have read the manga first.
The film had some funny bits as well and I liked that a lot. I liked and wanted to give a big hug to Youichi, Sakurai was in need of a wake up call at some point, and I disliked Fujimoto, the guy was so pushy.
Overall, the film is giving off nice vibes, it was cute, and also the paintings were really good, there was one in particular that I liked a lot.
What's your opinion on Hana wa Saku ka movie? Please let us know in the comments below.