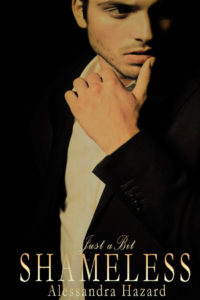 Novel: Just a Bit Shameless
Author: Alessandra Hazard
Genres: Romance, Homoerotic.
Released: N/A
Part of Book Series: Straight Guys #8
Summary:
Sam Landon is a homeless eighteen-year-old thief who is desperate for a different life. When his skills attract the attention of the Secret Intelligence Service, Sam eagerly grabs the chance.
Sam's determined to prove himself when he gets his first mission–to steal a flash drive from a paranoid crime lord–and is sent undercover as another agent's sugar baby.
Dominic Bommer, his "sugar daddy," is outrageously handsome, charming, rich, and pretty much perfect. Dominic is kind, generous, and protective of him.
Except "Dominic Bommer" is nothing but a role performed by a cynical MI6 agent, who is actually straight, aloof, and manipulative.
Sam is perfectly aware that everything Dominic does is carefully calculated, every emotion faked. He knows that men actually do nothing for Dominic and he doesn't really want Sam.
But despite knowing all of this, Sam still finds himself falling hard for a man who doesn't exist.
Or does he?
---
Post's Author Opinion:
Note: This is a personal opinion, it does not reflect YaoiOtaku's official position towards the novel.
Just a Bit Shameless tells us about Sam Landon, a young man who at eighteen is an experienced thief, for which he is recruited by the Secret Intelligence Service to pretend to be Dominic Bommer's sugar baby and, along with him, to steal the USB of a criminal.
During the reading we can observe the notorious development of the characters and how quickly they become closer, it also tell us about the past of Sam —who had a childhood marked by the death of his mother and how he was forced to work for a gang— .
As for Dominic, we were introduced to Just a Bit Ruthless as a man interested in Luke, but in reality he only needed information about his father and Roman.
As a couple, Dominic and Sam have an intense chemistry, not only of sexual formality but also romantic. And even though they are separated for a long period of time, this doesn't prevent them from making the decision to continue together at the end.
What's your opinion on Just a Bit Shameless novel? Please let us know in the comments below.