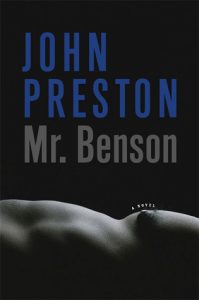 Novel: Mr. Benson
Author: John Preston
Genres: BDSM, Romance
Released: 1983
Part of Book Series: Standalone
Summary: Mr. Benson is the compelling story of a young man's quest for the perfect master. In a West Village leather bar, he finds wealthy, sophisticated, exacting Aristotle Benson, who leads him down the path of erotic enlightenment, teaching him to accept cruelty as love, anguish as affection, and ultimately, Mr. Benson as his master.
---
Post's Author Opinion:
Note: This is a personal opinion, it does not reflect YaoiOtaku's official position towards the novel.
After reading a few reviews about a new BDSM novel turned movie and leaving disappointed I wanted to see if there's something good in the genre, an actual BDSM novel and not some misplaced sexual fantasy or an abusive relationship disguised as a BDSM one. With all these misconceptions around I really wanted to read something accurate, something that doesn't make BDSM look bad.
I found what I was looking for in Mr. Benson making it one of the best novels I read. The novel is raw and offers a true insight of what BDSM really is about. Right from the top, if you are not into the genre, don't read the novel because there's nothing left out. Mr. Benson is extremely graphic, not for the faint of heart.
I loved both Jamie and Mr. Benson, I loved the way their relationship progressed, how they got to a level of absolute trust and I really, really liked all the things that were not in the book, the ones that were not explicitly told to us, but were left for us to pick up on. As the novel's main focus was the BDSM aspect of the relationship, there was plenty of picking up.
While the book was written from Jamie's perspective, the epilogue told from Mr. Benson's point of view was a pleasant surprise. Everything fell much more in place then and I liked to see how Jamie and Mr. Benson perceived some of the same actions differently.
That being said, Mr. Benson is an outstanding read and I highly recommend it to anyone interested.
What's your opinion on Mr. Benson novel? Please let us know in the comments below.