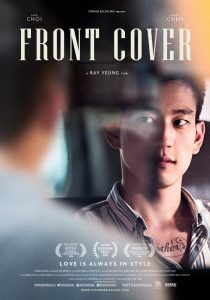 Movie: Front Cover
Alt. Names: –
Genres: Drama
Released: 2015
Status: Complete
Country of Origin: USA
Summary: One man does all he can to veil his Asian heritage; the other takes great pains to hide his sexual orientation. Both of these things begin to change when Ryan is hired to prepare film star Ning for a fashion shoot, and the men develop a bond.
Download Front Cover Movie:
N/A
Watch Front Cover Online:
N/A
---
Post's Author Opinion:
Note: This is a personal opinion, it does not reflect YaoiOtaku's official position towards the movie.
There were moments when I though I was watching a happy movie, and there were moments when this was happy, but there were also moments when it was not happy at all. It was also a bit cringy.
Definitely not the best LGBTQ movie I ever watched, but it was interesting and manageable. It also deals with a lot of stuff, like racism and internalized homophobia, that I am not going to focus on, but I am going to say it's sad and hurtful in more than one ways, and I hope that at least half of the main characters got over it.
Other than that, it's a good watch, if you don't have anything better. Reading reviews about it people also found it helpful and relatable, that being what actually made me want to write something about Front Cover. So yeah, not the best out there, but still worth a watch.
What's your opinion on Front Cover movie? Please let us know in the comments below.