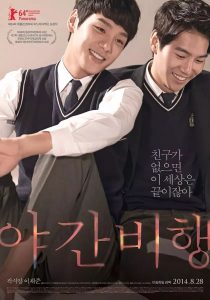 Movie: Night Flight
Alt. Names:  야간비행, Ya-gan-bi-haeng
Genres: Drama, BL
Released: 2014
Status: 1 Episode (Finished Airing)
Country of Origin: South Korea
Summary: Three teenage boys who were once close friends grow apart when they reach high school: Yong-ju lives hiding his true sexual identity, Gi-woong becomes the leader of the school gang, and Gi-taek an obsessive manga fan. Tired of the constant malicious bullying by Gi-woong's gang, Gi-taek betrays them by disclosing that Yong-ju has loved Gi-woong for years. Surrounded by an insecure boundary of the school and wounded by betrayals, the boys are driven into catastrophe.
Download Night Flight Movie:
Night Flight
Watch Night Flight Online:
N/A
---
Post's Author Opinion:
Note: This is a personal opinion, it does not reflect YaoiOtaku's official position towards the movie.
Warning: violence, homophobia.
Night Flight honestly broke my heart. It is a brilliant film, raw, and so real. I watched it in 2017 and it still stays with me, I still remember vividly all I felt watching it and it remained one of my favourite films ever.
Following a young gay man's struggles was a bit nerve-racking and almost brutal to say the least. And the film is just so well written and well acted that it truly touches you. I don't feel like I can express just how much I like this film so I can only recommend it with all my might.
What's your opinion on Night Flight movie? Please let us know in the comments below.