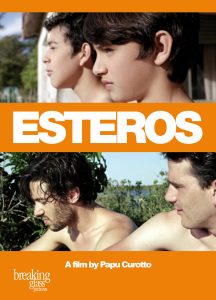 Movie: Esteros
Alt. Names: –
Genres: Drama, Romance
Released: 27 May 2016
Status: Finished Airing
Country of Origin: Argentina, Brazil, France
Summary: Childhood friends Matías (played by Joaquín Parada as a boy, and Ignacio Rogers as an adult) and Jerónimo (played by Blas Finardi Niz as a boy, and Esteban Masturini as an adult) reach adolescence and experience sexual attraction to each other, before being separated by circumstances. Later, as young adults, they meet again, and the film follows themes of complicated relationships and sexual tensions, as well as issues of homophobia.
Download Esteros Movie:
N/A
Watch Esteros Online:
N/A
---
Post's Author Opinion:
Note: This is a personal opinion, it does not reflect YaoiOtaku's official position towards the movie.
Esteros is a coming-out-terms movie about a childhood friends who attracted to each other.
Matias and Jeronimo are kids who the parents friend with each other. They both are inseparable since then. Eventually they started attracted to each other as kids but unfortunately Matias's family must go to Brazil because of the job and leaving their hometown and Jeronimo.
Many years passed, Matias back to the town but he had girlfriend. Fate coming to rescue, they reunited again not knowing it beforehand and all the feeling to each other resurface.
You will see both of them trying to nostalgia the time and place when they were kids, but you also seeing the struggle from both of them. From Mati who always tries to throw away and forget whatever he felt toward his friend and Jero tries to show a hint to his friend what he felt because he's been patiently waited over the decade.
I love and I think it's sweet how Jero still do and remembering what they always do together as kids. But get frustated when found out Mati always tries to forget and remove Jero as he didn't exist whenever he tell his girlfriend about his childhood life. Even I know the reason why he doing that.
The estuaries is beautiful, quite and relaxing. A place like that is really needed nowadays. I really like the place like that.
What's your opinion on Esteros movie? Please let us know in the comments below.