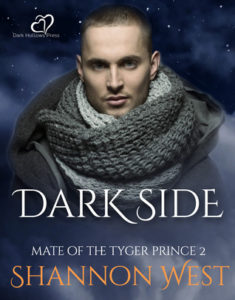 Novel: Dark Side
Author: Shannon West
Genres: Sci-Fi Romance
Released: April 5th 2016
Part of Book Series: Mate of the Tyger Prince #2
Summary: The course of true love never did run smooth. Ryan is settling into his role as a new father and the royal consort of Mikos, the fierce and handsome Prince of Tygeria. He's still deeply in love and happy—most of the time. But the former Alliance colonel is a bit restless, and even though he loves his child and his mate, he needs a bit more to occupy his time. Mikos thinks giving him more babies to care for will help, but Ryan comes up with a different idea for some diversion and physical challenge by forming his own team for the dangerous Arena Games.
Meanwhile, Haggoz and Kevin are deeply involved in a much more serious game of their own. The king warned Haggoz that punishing his own mate and holding him prisoner would be nearly impossible, but Haggoz can't bear to be parted from him. Locked in a seemingly endless war between his love for the former marine and his duty to his king, Haggoz is struggling to survive.
Just when it seems that they're hopelessly deadlocked, Mikos and Haggoz go on what should be a routine mission against an ARes training facility on a distant moon. When disaster strikes and word gets back to Ryan that Mikos and Haggoz are both in terrible danger, he embarks on a desperate mission to save them and bring them safely home. Ryan finds an unlikely ally in Kevin to help him save the men and discover that even though the course may be rocky, true love will always find its way.
---
Post's Author Opinion:
Note: This is a personal opinion, it does not reflect YaoiOtaku's official position towards the novel.
in this kind of books you might find it impossible to find love but the author proves you wrong 😉
What's your opinion on Dark Side novel? Please let us know in the comments below.