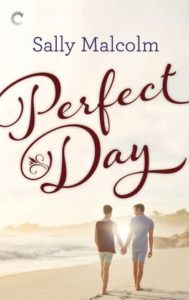 Novel: Perfect Day
Author: Sally Malcolm
Genres: Romance/Contemporary
Released: August 13th 2018
Part of Book Series: New Milton, Book 1
Summary:
First love conquers all in Perfect Day, a captivating contemporary male/male retelling of Jane Austen's Persuasion.
Love doesn't burn out just because the timing's wrong. It grows. It never leaves.
When Joshua Newton, prodigal son of one of New Milton's elite, fell in love with ambitious young actor Finn Callaghan, his world finally made sense. With every stolen moment, soft touch and breathless kiss, they fell deeper in love.
Finn was his future … until he wasn't.
Love stays. Even when you don't want it to, even when you try to deny it, it stays.
Eight years later, Finn has returned to the seaside town where it all began. He's on the brink of stardom, a far cry from the poor mechanic who spent one gorgeous summer falling in love on the beach.
The last thing he wants is a second chance with the man who broke his heart. Finn has spent a long time forgetting Joshua Newton—he certainly doesn't plan to forgive him.
Love grows. It never leaves.
---
Post's Author Opinion:
Note: This is a personal opinion, it does not reflect YaoiOtaku's official position towards the novel.
Any second chance stories were not my preference, but there was a slow burn romance in Perfect Day with a ton of angst, feels and USTs between both MCs, Joshua & Finn, that I couldn't help but read it in one sitting and found myself with a big smile at the ending.
It was really good and enjoyable. I liked how the author gave us Dual PoVs in Perfect Day that showed readers what exactly Joshua & Finn's feeling towards each other even after the breakup, the hurtful separation and then the unexpected reunion. They were intense and emotional, made me felt sympathetic towards both men, made me root for their happiness throughout the story.
Perfect Day also had some interesting side characters, but the one who caught my attention was none other than Sean Callaghan, the supportive and friendly brother of Finn's who wholeheartedly wanted to be friends and had instant bond with Joshua despite not knowing the man's past connection with Finn. Sean's character was so refreshing in Perfect Day that I came to like him so much and he was definitely my favorite character.
So, if you like second chance love story and want to read another retelling of Jane Austen's Persuasion but in MM genre instead, Perfect Day is a perfect recommendation for you!
What's your opinion on Perfect Day novel? Please let us know in the comments below.