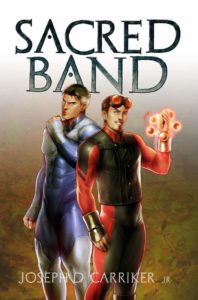 Novel: Sacred Band Novel
Author: Joseph D. Carriker
Genres: Superheroes/Science Fiction/LGBTQ+
Released: April 2017
Part of Book Series: Sacred Band Series, Book 1
Summary:
The golden age of heroes is decades past. The government could not condone vigilantism and now metahumans are just citizens, albeit citizens with incredible talent, who are assisted in achieving normal lives (including finding good fits for their talents employment-wise) by a federal agency.
Rusty may have been a kid during that glorious age but he remembers his idol, Sentinel, saving lives and righting wrongs — until he was outed in an incredible scandal that forced him into isolation. When a gay friend of Rusty living in the Czech Republic goes missing, Rusty is forced to acknowledge that while the world's governments claim that super teams are outdated and replaced by legal law enforcement, there are simply some places where the law doesn't protect everyone — so he manages to find and recruit Sentinel to help him find his friend.
But the disappearance of the friend is merely one move in a terrible plot against queer youth. A team of supers may be old-fashioned, but this may be a battle requiring some incredible reinforcements.
---
Post's Author Opinion:
Note: This is a personal opinion, it does not reflect YaoiOtaku's official position towards the novel.
Sacred Band was an interesting read in LGBTQ+ genre about superheroes. With well-constructed world-building, realistic queer characters, and some descriptive combat scenes like you were watching an action movie. Told in 3rd Person Omniscient PoV, which was not my favorite PoV in other books, but here it fit so naturally with the story that I couldn't help but found the chosen PoV quite engaging.
Yet, I felt some chapters on the beginning were slightly dragging. It seemed like the Author wanted to introduce the setting in so much detail first before focussing more on the characters or the plot. But then after the accident where Deosil needed to use her power to save lives, followed by the meeting between Rusty and Sentinel in another chapter, Sacred Band soon hooked my attention again.
Speaking of Deosil, she was my favorite character. As a transwoman, she was strong, confident and realistic. Her elemental manipulation was also cool and badass. It seemed to me she was more powerful despite being the sidekick and BFF of Rusty, the MC. I also loved how nicely the Author portrayed her close and platonic relationship with Rusty. They were caring and protective. They were one of the best example on MF friendship.
There was also an MM romance in Sacred Band. It was sweet and tender but a slooow burn one. While focusing on the superhero plot, I was also rooting for Rusty to finally get together with his crush. Fortunately, the Author has given hints that they might be going to be together at last.
For the ending, I felt the final chapter of Sacred Band was a bit rush and cliffy. There was still some questions regarding who was the actual villain and the reason for abduction. But since the Author has set up Sacred Band as novel series, we might find the answer later in Book 2.
What's your opinion in Sacred Band novel? Please let us now in the comments below.