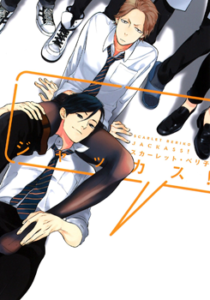 Manga: Jackass!, Jackass – Sawatte Ii tte Dare ga Itta yo?
Author: Scarlet Beriko
Genres: Yaoi
Released: 2015
Status in Country of Origin: Complete
Scanlator:Bro Scans, CJ Sugar, Madam el LePoo Scanlations, NijiNiji Nikubou Scans, Sals Scans
Summary: High school student Hara Keisuke suddenly finds himself wearing a pantyhose while putting on his jersey. This happened because his sister was wearing his jersey the day before, but Keisuke doesn't find the right timing to laugh it off. The one who helps him in this situation is his good-looking best friend Shinoda. Perferming perfectly in tune they get out, but when Shinoda watches Keisuke take off the pantyhose he suddenly changes…?
Download Jackass Manga:
Jackass!
Read Jackass! Online:
Jackass!
---
Post Author's Opinion:
Note: This is a personal opinion, it does not reflect YaoiOtaku's official position towards the manga.
Jackass is one of the most fun, entertaining, and hysterical mangas I have ever read. I find that it stands out amongst the sea of yaoi manga that one can encounter every single day. The storyline is easy enough– a guy accidentally puts on a pair of pantyhose, his friend catches him and finds it sexy, and they go through trials and tribulations as a new found love blossoms between them. While the storyline itself isn't that awe-inspiring, the way it's executed is. Not only do the main characters go through their own problems, but the side characters are just as involved, and you sometimes find yourself more interested in them than the main pairing. In a very simplistic, funny manner Jackass! covers the rough issues of homophobia, reputation, honesty with yourself and others, and of course love. More than anything else these characters keep you interested and you can't help falling in love with their confidence, their shyness, their flaws… Everything. This is definitely a top 5 manga for me.
What's your opinion on Jackass! manga? Please let us know in the comments below.