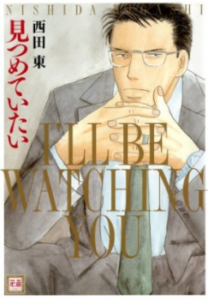 Manga: Mitsumete Itai, I'll be watching you, 見つめていたい
Author: NISHIDA Higashi
Genres: Drama, Romance, Slice of Life, Yaoi
Released: 2004
Status in Country of Origin: 1 Volume (Complete)
Scanlator: Half-Baked Scanlations
Summary:
Three stories featuring an element of voyeurism – one man observing the object of his affection.
1) Mitsumete Itai (I'll Be Watching You)
Chief Yamaguchi, a middle-aged married company manager, meets up with carefree motormouth Abe Kazuki once a month for dinner and sex. But each man secretly longs for greater intimacy. Over time they do become close, but the Chief's transfer to America and family problems threaten to ruin their fragile affair.
2) Ore ga Iru Kara (Because I'll Be There)
High school student Yagi is caught making out with a girl by Karino, senior member of the rugby club. As the school bad boy, this is no big deal for Yagi – especially since he and Karino weren't friends in the first place. But when the tables are turned a week later, Yagi must summon the courage to be a hero.
3) Yume no Hate (The End of a Dream)
John, a jaded male escort, has dreams of being with Chris, his aloof agent. How can a client's run-of-the-mill filming request drive these two professionals apart?
Download Mitsumete Itai Manga:
Mitsumete Itai
Read Mitsumete Itai Online:
Mitsumete Itai
---
Post's Author Opinion:
Note: This is a personal opinion, it does not reflect YaoiOtaku's official position towards the manga.
Mitsumete Itai was pretty realistic to me, I liked the story, the characters too, especially the seme, who's interesting~~~
Ore ga Iru Kara was the story I liked best of the three. Both Karino and Yagi have very intersting personalities and are very likeable. I also liked how the mangaka shows how strong feelings and emotions are by simple details such as a handshake~~
Yume no Hate was my least favorite story because I felt the need for more details, more development of the story~~ Nishida Higashi's art is very simple and can be bothersome for some (huge hand, eyes that look crossed), but it works for her stories and gives them a particular aura.
What's your opinion on Mitsumete Itai manga? Please let us know in the comments below.