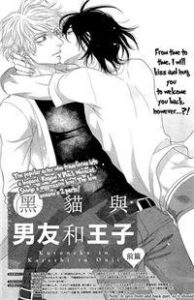 Manga: Kuroneko to Kareshi to Ouji, Kuroneko Kareshi no Ouji Sama
Author: SAKYOU Aya
Genres: Drama, Fantasy, Romance, Smut, Supernatural, Yaoi
Released: N/A
Status in Country of Origin: 2 Chapters + Extra (Completed)
Scanlator: Golden Shade Scans, Pink Cherry Blossom Scans
Summary: Sequel to "Kuroneko Kareshi no Afurekata"
Keiichi, who finally comes back home from a long overseas filming shoot, plans to spend his well deserved vacation in romantic atmosphere, with no one else but Shingo. But Yuujin suddenly has to take care of some urgent matter in England, so he leaves Rio in the care of Shingo and his brother. Kagami therefore, sees their precious quality time in danger.
Also, with the arrival of the cute, little troublemaker Rio, we get to know a new rival of the super handsome no.1 actor!
Download Kuroneko to Kareshi to Ouji Manga:
Kuroneko to Kareshi to Ouji
Read Kuroneko to Kareshi to Ouji Online:
Kuroneko to Kareshi to Ouji
---
Post's Author Opinion:
Note: This is a personal opinion, it does not reflect YaoiOtaku's official position towards the manga.
This Volume can be seen as a extended ending of the previous manga "Kuroneko Kareshi no Afurekata".  It also comes with two bigger extras that gives us insight into the happy couple's daily life.
Be prepared for two chapters of pure joy and bliss! I think the fans of the sweet dream couple Shingo & Keiichi finally deserve it 😀
What's your opinion on Kuroneko to Kareshi to Ouji manga? Please let us know in the comments below.