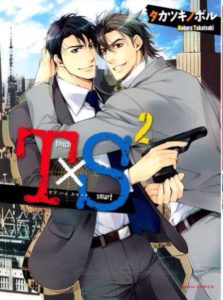 Manga: T X S [Tough X Smart]
Author: Takatsuki Noboru
Genres: Comedy, Drama, Yaoi
Released:  2012
Status in Country of Origin:
Scanlator:  Shinmakoku Scanlations
Summary: From Shinmakoku Scanlations :
Koga Masataka and Terajima Ryuji are homicide detectives working for the police department. Behind the stoic facade, Koga is suffering from the pain of his past. When Terajima blatantly opens his heart to him, Koga is left confused. While behind closed doors they are more than "office partners", Koga is still afraid to let himself believe that he could be what Terajima wants him to be. It's a love story between a Tough man and a Smart man trying to understand each other as they finish one murder investigation after another.
Download T X S Manga:
T X S
Read T X S Online:
N/A
Post's Author Opinion:
Note: This is a personal opinion, it does not reflect YaoiOtaku's official position towards the manga.
T x S is a definite fun manga to read. The artwork is quite lovely and the story is entertaining and unique. The idea of a SemexSeme relationship is very interesting and one of the things that makes this manga so fun. The stories are rather interesting and the fact that there is no real true uke throughout most of the story makes the relationship between Koga and Terajima more interesting. Ultimately when the decision is finally made it's rather endearing. There is plenty of humor as well as drama since both characters are homicide detectives, but I like that the drama isn't what you would find in your typical yaoi.
If you are looking for something that isn't your typical yaoi relationship then this is highly recommended because you will not be disappointed.
What's your opinion on T X S manga? Please let us know in the comments below.